As you may have guessed, we are very big on finding ways to improve patient communication. Like most patients, we know first-hand the pain that comes along with not having adequate communication with our doctor. Lack of communication is especially frustrating when it comes to patient referral workflows. Healthcare practices face several communication challenges with patient referrals that can result in delayed care and reduced patient satisfaction.
If you're looking to optimize your patient communication strategy and improve your referral workflows, then OhMD's referral management tool might be right for your practice.
The role of effective communication in patient referral workflows
Healthcare practices experience communication challenges both internally and externally. Missed calls and messages, outdated technology and overwhelming workload can contribute to a negative patient experience or burnt out staff.
Digital communication tools such as secure messaging platforms can streamline the referral process and enhance collaboration between clinicians. OhMD's automated referral tool can ensure accurate and prompt exchange of important patient information. The referring provider either calls or texts the patient's information to the referred doctor, which is transcribed and added to a new conversation in OhMD. The provider can then review the information while the patient receives an automated message prompting them to schedule an appointment.
Effective communication between healthcare providers ensures timely and appropriate care for patients, and is essential for better continuity of care.
Enhancing patient engagement and satisfaction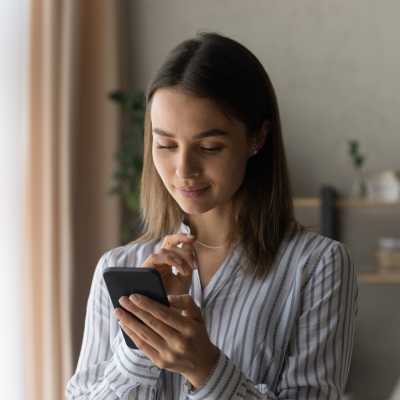 Patient engagement is crucial to patient referral communication. By simplifying the information exchange on all ends, we can meet the patient where they are, prompt them for an appointment with little to no effort for staff and providers, while being approachable and available. With an automated referral tool, obtaining necessary information and contacting the patient is done on the provider's behalf. Starting the conversation is made easy, and scheduling is hassle-free for all parties involved.
Personalizing communication by addressing patients by name can improve patient engagement and satisfaction. One study found that overall, patients feel that secure messaging platforms and referral management software improved their experience and shortened wait times for appointments.
Leverage Technology for Enhanced Communication
Updating and upgrading technology can expand the effectiveness of your communication channels. For example, using a telemedicine solution that offers video calls and SMS messaging tools together can make the referral process simple and reduce no-shows. Just think of the avenues that opens up for your practice. A referred patient may not always be able to make it into the office. However, they can visit with their doctor over a video visit they just effortlessly launched from a text message they received. The barriers to visiting with your doctor are immensely reduced by leveraging a technology that is built for both patient and provider needs.

Now, how do you document that interaction? Integrating electronic health record systems improves patient experience, outcomes and continuity of care. Online, automated patient referrals just simply work.
This study even found that after switching to an online referral system, referrals more than doubled overall.
Benefits of secure messaging, video calling, and voice calling
Streamlined communication isn't just important between providers. It's necessary for optimizing patient referrals. For instance, secure messaging platforms enable quick and efficient communication between clinicians and patients while maintaining privacy standards. Meanwhile, voice calls are useful for discussing sensitive information or providing urgent medical advice. An electronic referral tool, like that offered by OhMD, can take the call's transcript and place it right in the patient chat for ease of access on the receiving provider's end. Leveraging such technology has been shown to reduce administrative burden and improve the quality of care.
Best Practices for Implementing Effective Patient Communication
To enhance patient referrals, healthcare providers must adopt best practices for implementing effective patient communication. This code of conduct does not need to be complicated. It might look something like this:
Follow clear and concise messaging guidelines to communicate with patients.
Train staff members on proper communication techniques to improve the overall patient experience.
Leverage technology to streamline multiple communication channels into one thread wherever possible.
Platforms like OhMD make all of these best practices a snap, including the connection of multiple communication channels into one feed. With OhMD, it doesn't matter if it is coming through a text, a website chat, a voice call, or a video call – everything can be documented in one patient chat record.
Simplification leads to better coordination, and eases pressure on staff.
Ensuring HIPAA compliance and patient data security
Healthcare providers must ensure patient data security and HIPAA compliance to protect patient privacy and information. This can be achieved through secure communication channels, well-trained staff members, regular process reviews, and updates. Implementing effective patient communication can lead to better referrals, improved patient outcomes, and reduced staff workload. Such initiatives foster interoperability, value-based care delivery, quality of care, and a better overall patient experience.
There are many tools out there that can be used for patient referrals. One thing you should ask when choosing a technology: was it built for me?

Ask yourself if the service you are buying was built with an understanding of the nuances of the healthcare experience. Did the builders know how a healthcare practice operates?
Security and compliance are a must for any patient referral software you are considering for your practice.
The transformative power of optimized, automatic patient referrals
Errors and delays can be reduced while improving the experience of care by emphasizing the importance of clear communication between patients and clinicians. Investing in interoperability solutions like referral management software or secure messaging platforms ensures timely transfer of important information among referring physicians and medical specialists. Such technologies aid in maintaining continuity of care through better coordination and follow-up on consultations.
We've seen stories where patient referral follow-ups for scheduling can take weeks or, in extreme cases, over a month.

It doesn't need to be this way, nor should it.

OhMD makes it simple on both the provider and the patient, automating the information intake from the referring provider and then automatically reaching out to the referred patient to start the scheduling process.
Embrace technology for improved referral workflows
Incorporating technology like a secure messaging platform can improve coordination between your staff and referring practitioners. Automated appointment reminders can also reduce administrative burdens and enhance the patient experience, keeping their appointments with you front and center in their mind.
Embracing a digital solution for referral management, you have the opportunity to optimize the referral process, reduce referral leakage, and build meaningful trusted relationships with your referral network and their patients. Your staff, your referring providers, and most importantly, your patients will thank you.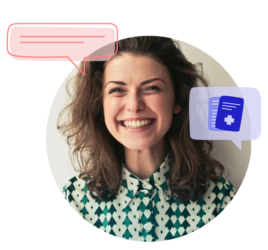 Take the first step towards transforming your referral workflows today.
Request a demo with an OhMD expert!