Referral management systems in healthcare are crucial as they directly affect patient outcomes, yet, actually implementing a process that works can be very difficult.
Patients everywhere know the pain of having their primary care doctor refer them to a specialist only to spend days if not weeks waiting for a follow-up or trying to schedule an appointment. And what happens when the appointment does get scheduled? In many cases, even more waiting. This can lead to frustrated patients as the process of booking, having the appointment, and closing the loop with patients and providers who referred just takes too long.
It's not just patients who feel the pain. Providers feel it too. In this post, we'll explore the issues faced by both providers and patients and how OhMD is rethinking the medical referral management system.

Truly simple referrals that providers and patients love
Lightning fast capture and conversion take the pain out of referring and appointment scheduling
See how it works

What is the referral process?
Keeping track of incoming referrals from a variety of other organizations can be a challenge, especially when many practices are still heavily reliant on antiquated fax technology. Once the referral comes in, it's on to another inefficient communication tool: the phone.
Providers spend an inordinate amount of time trying to connect with patients as they follow up on incoming referrals. In many cases, the phone-tag that ensues breeds a negative experience as their time is taken away from actually focusing on patient needs.
And then what happens? The less time the provider is focused on the patient's needs, the higher the chance for a poor patient experience and health outcomes.
It is a cycle that can be hard to break.
Could your workflows use some work?
Fixing the issue can be a time-consuming process that requires a lot of resources.
However, with advancements in technology, managing referrals has become easier and more efficient than ever before. Our referral management solution can help you streamline your processes, reduce patient leakage, and deliver faster, better quality care for your patients.
See how OhMD thinks differently about referral management, providing a solution solution that helps you optimize your partner communication, increase revenue and referral volume, improve care continuity, and ultimately improve patient outcomes.
Plugging Up Patient Leakage With Healthcare Referral Management Software
When discussing healthcare referral management, one thing you'll hear about quite often is "patient leakage."
Patient leakage (or referral leakage, a topic we've discussed before) is a common problem in the healthcare industry, where referred patients fail to see their referral result in an actual appointment.
This can lead to lost revenue and decreased efficiency for your practice. In fact, one study showed that less than 35% of referral scheduling attempts resulted in documented appointments.
Think about how the delay in care can change the health outcomes of patients who need those referrals.
Not to mention the effect of those missed referral opportunities on your practice's bottom line.
The impact of a broken referral process can be absolutely massive.
Managing referrals without a clear-cut strategy in place to ensure patients actually get booked can be both time-consuming and error-prone, leading to further inefficiencies.
It's possible that referral never made it into the EHR and into a clinician's workflow for outreach.
Maybe that referred patient got lost in the shuffle of every day tasks at the practice.
What if it just simply fell off the fax machine and into the circular file?
These are all real scenarios that happen daily in offices where a patient referral management system is not in place.
This is why many practices turn to automated referral management systems to help reduce patient leakage by ensuring efficient communication between providers and timely follow-up with patients.
Alongside reducing patient leakage, these systems also facilitate more coordinated and comprehensive care, which ultimately leads to better patient outcomes. While investing in a referral management system may require upfront costs, it can result in significant long-term savings and benefits for both patients and providers.
But how do you ensure you reap those benefits? The best way is to make sure you have an incredibly easy process for both referring providers and patients.
Deliver faster, better quality care for patients with OhMD Referrals
OhMD Referral Management makes the referral process between healthcare providers and the patient appointment scheduling simple.
And that's no hyperbole.
When it comes to improving efficiency and health outcomes, our referral management solution offers a streamlined process for capturing referrals. Rather than relying on faxing, our solution allows for easy capture through voice or text message that are immediately documented in the OhMD platform (and in a click to your EHR). This reduces the risk of lost or delayed referrals, leading to improved efficiency and ultimately better patient outcomes.
The days of antiquated faxing of patient information, endless calls, phone-tag, and voicemails are over.
If your referring provider can text or make a phone call, they can kick off a patient referral.
A real-time patient referral management system
With OhMD's real-time referral management your practice leverages a dedicated phone number that a referring clinician texts or calls (with automatic transcription for phone calls).
Automated intake questions are asked letting you capture the patient information you require right in OhMD so that you can begin converting the referred patient to a booked appointment with the patient.
As soon as the necessary information is collected from the referring provider, OhMD kicks off an automated outreach to the patient. A text message is sent, giving the patient easy access to provide availability and insurance without making any calls.
The entire interaction is documented securely in OhMD without your staff having to pick up a phone.
That's right. No phone calls, and therefore, no phone-tag!
It might be helpful to visualize exactly what we're talking about so we built this quick walkthrough:
Want to see each step broken down even more? See how it all works
Streamlining closed loop referral management
Your provider network will love how easy it is to refer patients to you.
You will build stronger relationships as a highly reliable partner as you'll be able to address patient referrals in real-time stopping leakage in its tracks and boosting patient engagement.
OhMD even makes it simple to add your network of referral partners for colleague-to-colleague HIPAA compliant messaging so you can close the loop with the providers who referred you patients helping to improve continuity of care.
Most importantly though, the lightning fast referral workflows you offer through OhMD will delight patients, making it much easier to retain them.
The pain they once felt with scheduling will be replaced with relief as you focus on their needs and positive health outcomes.
In short, OhMD's electronic referral management solution is designed to improve patient satisfaction and drive revenue growth for healthcare organizations. By offering a more efficient and streamlined process for capturing referrals, healthcare professionals can focus on what's most important: delivering exceptional care to their patients.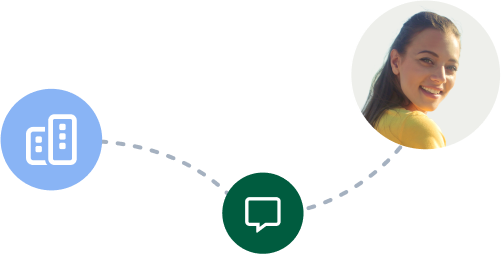 Capture and Convert Patient Referrals in Less Than 60 Seconds.
The fastest referral process your patients have ever experienced, made simple.