What's happening with the patient referral form?
The number one cause of physician burnout is too many bureaucratic tasks like charting and paperwork[1]'Death by 1000 Cuts': Medscape National Physician Burnout & Suicide Report 2021. Despite the fact that many providers, particularly specialists, rely on patient referral forms to keep their business afloat, the outdated referral process is taking a toll on physicians.
If any number of steps in the referral process fall short, practice reputation and revenue can suffer. According to Medical Economics, as patients have been encouraged to use telemedicine versus in-person care from 2019 to 2021, they've grown more comfortable with digital healthcare in general. This includes using online resources to find specialists instead of relying on referrals from primary care physicians. With patients less likely to follow through on provider referrals, how can practices who depend on referrals to generate revenue continue to thrive?
The answer is simple. Streamline the referral form process to prevent patient drop-off.
What's wrong with the traditional referral process?
The traditional referral form process is inefficient, disjointed, and often leads to "referral leakage"; patients seeking care out-of-network from competing specialists. The process usually looks something like this:
Primary care physician determines patient requires specialist care
Primary care physician faxes referral form to specialist
Referral reviewed and authorized
Referral coordinator attempts to schedule appointment with patient
Patient prints and fills intake forms at home or in the waiting room
Appointment
Specialist communicates next steps to patient
Specialist communicates recommendations/next steps to primary care physician
Primary care physician confirms receipt of plan and determines whether to implement
Primary care physician communicates plan to patient/family
This graphic represents the typical 20-step process by which a Federally Qualified Health Center (FQHC) refers a patient to a hospital specialist. It's riddled with complicated workflows and the process can span weeks if not months.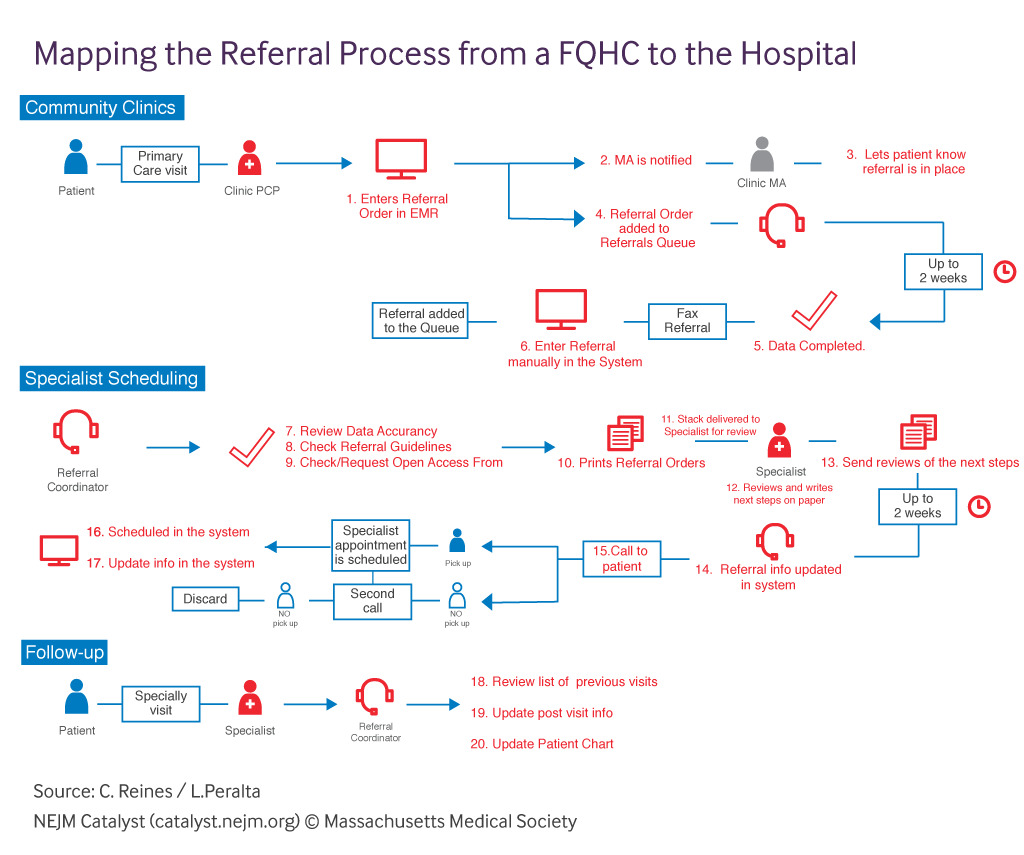 What causes referral leakage?
Often poor communication and negative patient experience are the driving factors behind referral leakage. There is too much room for error in the typical referral form process. An article by Malhar P. Patel BSPH on Closing the Referral Loop points to low appointment scheduling rates as the leading cause of referral leakage. In an analysis of 103,737 attempts to schedule referral appointments, only 61 percent actually resulted in a scheduled appointment. That's nearly 40 percent of patient referrals that dropped off before the appointment was even scheduled.
That's not even taking into account the referrals that didn't reach the step of appointment scheduling, either because they were lost, missing contact information, weren't properly authorized, or took too long to contact the patient. Even referrals which reach the step of appointment scheduling don't always come to fruition because patients are discouraged by 2-3 month long wait times.
The referrals that fall through the cracks result in:
10 to 30 percent of revenue lost per year (or $200 to $500 million for the average hospital), according to Healthgrades
Weakened rapport with patients and referring physicians, hurting business down the line
Most importantly, patients do not receive appropriate care in a timely manner
OhMD Referral Form Management
OhMD can help to streamline the patient referral process with better, modernized communication. Let's break it down:
Referral Form Capture and Intake Chat
Referring physician fills out referral form embedded on specialist's website with the necessary info to contact the patient. No more fax!
Referral coordinators use broadcast texting to make first point of contact with patients, schedule appointments and send form links by text to fill out electronically in advance. No more phone tag or dead-end referrals!

In-person Patient Visit
Patient appointment with specialist.

Video Visit Follow-Up and Patient Review
Patient can ask follow-up questions via video visit.
Specialist practice texts the patient to request an online review based on their experience.
Additional Perk
The specialist can communicate directly with the referring physician throughout the entire patient journey via secure colleague chat.
OhMD Referral Form Management fosters faster, more reliable communication between referring physicians, specialists, and patients. A combination of electronic form capture and two-way patient texting can help to trim down the length of the referral process and ensure that patients get the care they need.
Interested in implementing OhMD for Referral Form Management?
Click here to speak to an expert.