You probably are well aware of the benefits of deciding to start a medical practice. Amongst many factors, one in particular stands out:
Autonomy.
Starting your own medical practice is no easy task. But the freedom that comes with opening your own practice is convincing enough for many. If you're looking to start a medical practice, here are a couple factors to consider when you're getting started.
Create a business plan
You are likely going to need the support of a lender in order to get your business off the ground. In order to do this, you need to identify a couple overarching factors for your business. What services will you offer? Where will your practice be located? Or will it be entirely virtual? What are your anticipated costs?
You're going to need to think like an entrepreneur.
To start, it's important to make sure that your practice will be filling a need. A great business plan will include your audience, or in this case, your patient population. And you'll need to prove that your patient population has a need for a practice like the one you intend to build.
You want your business plan and projected finances to be as specific and thought-out as possible. To do this, many groups will choose to use a pro forma and plan out expenses for the first 3 years of the practice.
Choose your EHR software
Included in your business planning should be an Electronic Health Record (EHR) system. This will be a tool your practice will put to use every day, so make sure you choose wisely.
A good EHR will make it easy for you to keep track of the patient care journey. You are probably familiar with at least one EHR system, which will help you determine what is important when choosing your new EHR.
Ease of use and interoperability between systems is key for determining your best course of action. Ideally, your EHR will be able to integrate with your patient communication tools. This will make transferring electronic conversations to your EHR possible with the click of a button.
Line up your patient communication tools
Perhaps most important is making sure that you have a way to connect with your patients. After all, patients are what keep your practice afloat. Patients will want to contact you in a variety of ways. And patients value convenience, regardless of the channel(s) you use to connect with them. Research shows that patients want to be able to text their providers, just as they would text family or friends. But you want to make sure you cover all your bases. Some patients may prefer to call the office rather than text, or schedule a telemedicine visit instead of coming into the office.
Keeping track of all these lines of communication quickly becomes daunting. That's where an all-in-one patient communication and contact center platform can help.
Allowing all of your patient communication to come in through one channel is clean and easy to keep track of. OhMD. for example, takes an omnichannel approach to patient communication. This means that you could have patient texts, calls, voicemails, and video visits all occurring and being logged in the same place. When the conversation is complete, you can push all the information into the patient record easily so you and your staff have the updated information you need to deliver the highest quality care.
Bad communication is the number one complaint from patients. If you create multiple lines of communication but can't respond efficiently, you're likely to fail. This means you'll need to be able to manage different types of patient communication. With OhMD you're able to have efficient omnichannel conversations. This saves you time, money and unnecessary hiring.
Two-Way SMS Messaging
These days, a text is the best way to get in touch with people. The fact is, 99% of texts get read, usually within three minutes of sending, while only 20% of calls from an unknown number get answered.

Using HIPAA compliant texting tools, you're able to converse with patients effectively and securely. In addition to two-way, secure SMS messaging, OhMD also offers automation tools that give a personal feel while saving you massive amounts of time.
Automation is a game-changer in the healthcare sphere. Taking your most common patient requests and allowing them to be triaged automatically means less manual effort for staff. OhMD's Autopilot does just that.
Using Autopilot, you can collect inbound patient data automatically based on certain keywords. Making use of Autopilot means that any information you need to fulfill patient requests is gathered for you, while you focus on other tasks. This means no time spent on the phone to get patients scheduled or fill routine prescriptions.
While Autopilot covers automation for inbound messaging, Broadcast takes care of outbound messaging. Using Broadcast, you can send bulk patient messages regarding upcoming appointments, office closures, or billing reminders.
With dynamic field capabilities, Broadcast can be personalized to each patient quickly and easily. This means you can bypass hours spent on the phone handling these occurrences. Instead, take a couple of minutes to create the Broadcast, and you're good to go.
Virtual Phone Assistant
Triaging inbound patient calls couldn't be easier with Virtual Phone Assistant (VPA). VPA allows for patients to choose how they'd like to connect with you by offering them the option to:
Press a key to hang up and get an automated text back from your practice using HIPAA compliant messaging
Leave a voicemail, allowing staff to playback the recording or read the automated transcript in OhMD and then respond appropriately
Stay on the line and wait to speak with someone from your organization
Providing these options to patients has proven to help reduce call volume for OhMD organizations like Central Mass Podiatry. They were able to reduce call volume by 20% using Virtual Phone Assistant. This meant maintaining strong patient relationships, and even increasing their patient population, without having to hire more staff.
Patient Calling
Within OhMD, you are also able to perform outgoing calls to patients. Right from the patient chat you're able to call a patient, all without picking up a phone. OhMD also tracks the call duration as well as the start and end times of the call for easy patient management efforts like billing.
Imagine someone calls into your office and chooses to leave a voicemail through the Virtual Phone Assistant above. Their call is transcribed into the patient record. You and your patient both have choice in the channels used for the rest of the conversation.
You can text them.
Or, you can click to call right from your desktop all with start and end times documented.
When you're done, push it back to your EHR either as a document or in a click with one of over 85 EHR integrations.
Simplify your calls and make patient connections easier.
Video Visits
If you plan on using telehealth at your practice, you'll want to identify a video visit tool that will be easy for you and your patients to use. Even if you're not planning on opening up a telehealth-only practice, video visit options are almost a patient expectation.
For that reason, you want to be sure that the tools you're choosing will be the right fit for you and your patients. We thought through the best way to offer easily accessible telehealth options for patients and providers alike.
On the provider end, our video visit tool is easily accessible within a patient chat. OhMD also automatically records the duration of the call as well as the start and end times right within the patient chat. This allows you to properly bill for your time easily using the chat record.
On the patient end, joining a video visit is as simple as clicking on a link in a text message. No more confusion around making accounts for telehealth visits or software downloads required.
Website Chat
When you're launching your new medical practice, you'll likely be creating a website. If you plan on offering HIPAA compliant texting, you may also want to consider HIPAA compliant webchat for individuals visiting your website.
A webchat tool allows for current and prospective patients to communicate with your practice quickly and easily, while their need is top-of-mind. Using OhMD's Webchat tool, any incoming messages from your website would come right into OhMD, allowing for all patient communication to come into one channel.
Electronic Forms
You'll probably be acquiring many new patients when you open up your new practice. This likely means a lot of forms to be sent, completed, charted, and stored. Electronic forms make it easy for you to send patients forms right to their mobile device. They're able to complete and submit any forms right from their mobile device, no printer needed.
Longtime OhMD group, Southeastern Pediatric Associates, started sending electronic forms to patients ahead of their appointments. Not only did this allow for staff to review submitted forms ahead of appointments, they were also able to drastically reduce the time patients have to wait in their parking lot waiting room. Before implementing OhMD, patients would spend 15-20 minutes in the waiting room. Sending forms out ahead of time cut that time down to 5 minutes, even during especially busy appointment slots.
Reviews & Reputation Management
Good reviews are crucial for the success of any medical practice. Patients rely on other patients when choosing the right practice for their needs. In fact, 90% of patients use physician reviews when making a decision about who to see. That's where keeping an eye on your reviews becomes important.
Using OhMD's Reputation Management tool, you're able to request patient reviews and manage those reviews in one secure location.
Stay financially viable – Make billing easy
You are starting a practice to have a positive impact on patient health. While improving patient outcomes is always the goal, you cannot achieve that goal without financial sustainability. Choosing the right patient billing software or service is one of the most important decisions you will make. Billing is not always an easy conversation, but there are ways to make billing requests a bit more palatable. OhMD partner, PayGround, gives your patients digital or traditional payment options without the unnecessary or hidden fees. When it comes to making payments, your patients want options and they want it to be convenient. As with anything you pay for, a hidden fee can completely sour you on the experience.
WIth a tool like PayGround, you'll get a complete payment solution that makes it easier for your patients to submit payment safely and securely. Patients are able to pay their bills in the way that works best for them, even bundling payments together in a way that works for them financially.on an easy-to use platform.
And… it works.
Organizations using PayGround see a 23% average increase in patient payment collections and see the amount of time payments stay in accounts receivable drop by six days!

Oh, one more thing. Because you can offer your patients the ability to pay online, you can also make your requests via text message through OhMD.

Your practice tech stack is now taking shape. Now what?
Find the right staff
Right from the get-go, to start a medical practice off on the right foot you're going to need to focus on hiring the right staff members. Your initial employees help set the tone of the entire practice. For that reason, you need to make sure that those individuals are able to carry out your vision for the practice.
In an interview with the AMA, provider Daniel E. Choi, MD, noted that when he was opening up his practice, he kept in mind exactly what he wanted the patient experience to be. From their initial interaction with the practice, to their waiting room experience, to the actual visit, he wanted patients to be greeted by friendly, helpful staff. This desire is what led him to open up his own practice. And in order to realize that vision, he needed to make sure that the people he hired understood his vision for the practice.
In an episode of her podcast "The Private Medical Practice Academy", Dr. Sandra Weitz makes some suggestions for how to find the best Practice Manager for your practice. Here are some things she suggests to keep in mind when looking for new staff:
Identify staff who will be able to foster the culture you want to achieve at your practice.
Communication skills are key. Your staff will need to be able to effectively communicate with each other and with patients.
Look for individuals who are empathetic, compassionate, and pay attention to detail.
Use prior work experience as your guide. If you need someone to possess certain skills, look for those skills and experience in their resume.
Start a medical practice and find immediate success – The quick checklist
Choosing to start a medical practice is not a decision to be made lightly. There are many difficult choices to be made and possibilities to consider. But with the proper planning, you'll be able to find success right off the bat.
As a recap, here is what you need to remember when looking to start a medical practice:
Make a business plan, and remember to focus on the details, details, details!
Identify an EHR software that will make charting easy (bonus points if it integrates with your patient communication tools)
Know how you'll keep in touch with your current patients and how you'll acquire new ones
Choose a billing software that will be easy for patients and staff to use
All successful practices do one thing well: they build a trusting relationship with their patients that keeps them coming back visit after visit. An omnichannel approach to communication fosters that trust. You become easily accessible, while still maintaining the ability to be efficient in communication.
Start your medical practice off strong by keeping in contact with patients and streamlining your communication tools.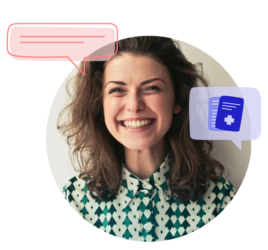 Choose the right patient communication tools for you
Looking to make patient communication easy? Let's chat!