Healthcare providers are asking the following questions more and more: How do I reduce call volume at my practice? How do I lower inbound call volume while increasing customer satisfaction? Is call routing a viable option to cut down on the number of calls we need to field from patients? How can I use our phone call menu options to cut down staff time on the phone?
Notice a trend?
Call volume has become an increasingly prevalent issue in healthcare, especially as staffing issues increase. For that reason, there has been a focus to reduce call volume across the board, while making sure that patient needs are still being met.
Though it may seem counterintuitive, giving patients more options for contacting you is a way to address high call volume, but it only works if you do it strategically and with the right solutions for the patient.
No one wants long wait times spent on hold, and every patient wants an answer as soon as possible. Patients will always call your practice, so the trick is to find effective ways to address those calls and give the caller self-service options to move down different paths that address their needs in a way that feels best for them.
In short:
Step 1: Give the patient communication options
Step 2: Use call routing to funnel them to the experience that works best for them
In this guide we'll walk you through how OhMD helps practices address phone call volume with call routing and call menu options.
The phone call volume conundrum
In the past, calling was the only way to get in touch with a healthcare provider other than physically visiting the office. It was considered the initial 'front door' to getting access to care.
And it worked like a charm…
For a while.
In recent years staffing issues and increasing patient volume have made relying on call centers or contact centers cumbersome and inconvenient for both patients and staff. Phones are ringing off the hook. Staff are stressed attempting to answer incoming calls. Voicemails take too long to respond to and when staff call back, a game of phone tag ensues.
It just doesn't work anymore when every other consumer interaction the patient has provides near-immediate response.
Patient satisfaction suffers and your staff ends up feeling more and more burnt out.
Having the right call volume reduction solution in place allows practices to offer better customer service to their patients. In fact, data suggests that 61% of patients between the ages of 18-24 may switch providers due to a negative digital healthcare experience. 50% of patients say that a dissatisfactory digital experience could ruin their entire care experience with a provider.
Solving high call volume with an automated contact center
This is where an automated phone attendant really comes in handy. Generally, these kinds of automated phone tree or call center tools allow for patients to leave detailed messages for the specific care teams using the classic:
"Press 1 to leave a message for Dr. Smith's team… press 2 to leave a message for Dr. Johnson's team…"
and so on.
Where these attendants fall short is that this type of call triaging still requires quite a bit of manual staff labor. Someone has to listen to (and transcribe) the message, return the phone call or find the right person to provide an answer, and then chart the interaction. Not to mention that these types of tools don't actually reduce call volume, and most do not even provide an option to move a conversation from synchronous communication to asynchronous SMS messaging.
In contrast, a tool like OhMD's Call-to-Text allows for patients to choose the workflow that best suits their needs. Even more, OhMD doesn't require any manual staff action and instead leverages automation. Let's walk through how a patient could choose to interact with our Call-to-Text .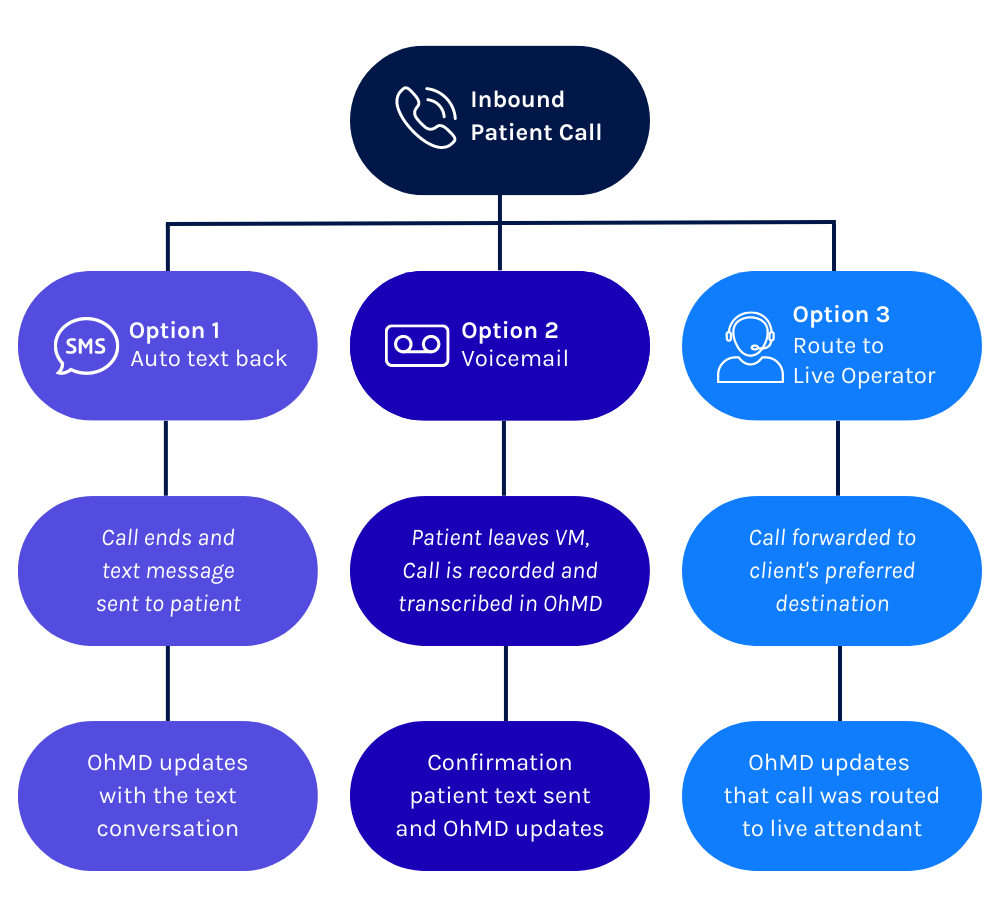 Call-to-Text from the patient perspective
OhMD's Call-to-Text provides your patients and prospects with call relay options in your automated phone menu. Callers use the self-service tool to engage in automated text message conversation, leave a voicemail, or to speak with a live team member. This allows your practice to leverage call forwarding options, taking a contact center approach, and ultimately reducing call volume.
Here's a breakdown of why a patient may choose one option over another:
A patient calls in looking to schedule an appointment. When they call in, they are given the option to press 1 to hang up and receive a text from you. You have now successfully bypassed a real-time phone call and have a text in its place (a move from synchronous to asynchronous communication). Administrative staff can respond to the text when they have the time, or use an automated flow like OhMD Autopilot to connect with the patient when it is convenient for them.
A patient is looking to change the dose of one of their medications. They choose to leave a message rather than send a text. Call-to-Text transcribes the voice message for you which you can then read as part of the patient's full chat record in OhMD. You can then respond back to them via text if you choose.
A concerned parent calls in and decides to remain on the line to speak with a staff member. If needed, you can text the parent regularly to make sure the child is improving.
By giving patients a choice in how they would prefer to communicate, leverage call routing to triage your inquiries delivering the information patients need much quicker. Meanwhile your staff are less overwhelmed trying to keep up.
But how does it work on the care team's side?
Call-to-Text from the provider perspective
Patient communication from Call-to-Text will come into your practice in three ways:
A text from the patient
A voicemail, which is recorded and transcribed, then added to the patient's OhMD chat thread
A regular phone call
The caller chooses their own path that makes sense for them from the call menu options that you offer through OhMD.
Next, any text or voicemail transcription can be easily exported to the patient record using one of OhMD's 85+ bidirectional EHR integrations.
That's right.
No more manual transcription of information into the patient record in the EHR. The information can be pushed from OhMD in seconds along with time stamps, for easy documentation and any billing that you might need to deploy.
How does call routing and menu options help reduce call volume?
Call-to-Text has proven to be effective for many OhMD practices. 
Take Central Mass Podiatry, for instance.
Using Call-to-Text, they were able to reduce call volume by 20% and their average length of call by 50%. They accomplished all of this while maintaining patient relationships and were even able to grow their practice without adding team members!
Another OhMD group, Nacogdoches Health Partners, found that by using Call-to-Text they were able to alleviate roughly 12-15 calls per day, simply by giving patients the option to leave a voicemail rather than remain on hold.
And the results seem to be just as effective for Farmington Family Practice. Rather than fielding and responding to the roughly 115 calls they saw on the average weekday, with OhMD Call-to-Text, about 80% of these calls were easily converted to voicemail and transcribed for simple triaging while 20% of the callers opted immediately to text instead.

This means that staff were able to handle inquiries much more efficiently while patients avoided having to wait on hold.
A true win-win situation for both healthcare provider and patient.
Time-saving tools which also improve the customer experience are undeniably the future of the efficient, high-satisfaction patient experience. If you are ready to improve your workflows to become the most patient-friendly practice you can be, let's talk! Our experts are ready to guide you through how you can reduce call volume and eliminate phone tag all while creating a care experience patients love.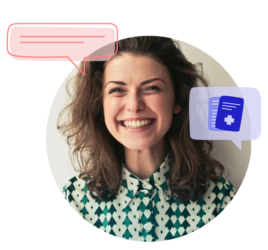 Patient call volume has you stressed? We can help.
Simple, HIPAA compliant communication with your patients using the tools they prefer