As humans, we're always looking to achieve more with less. Less time, less effort, less expense. We're an innovative species!
Knowing this raises the question: Why does healthcare feel like it evades this otherwise universal human rule?
This is partially due to the fact that healthcare organizations are subject to rules and regulations which can inhibit the use of certain workflow management tools available to other fields. But with health care-specific technologies, improving productivity in healthcare is more attainable than ever.
The benefits of workflow optimization
Improving workflows come with some pretty obvious advantages. One that is particularly worth noting is that optimizing patient outreach techniques saves money. How? By reducing the time it takes to complete administrative tasks like appointment scheduling. In addition, workflow optimization builds practice revenue as patient satisfaction and loyalty increases.
Aside from revenue expansion, many workflow optimization tools allow you to automate processes that used to be manual. Many practices are finding that investing in automation tools is an inexpensive way to improve productivity levels. According to research from McKinsey & Company, estimates show that if productivity in healthcare were to be improved, health care spending could be anywhere from $280-550 billion less than it was in 2019.
Yes, you read that right.
That's no small figure. And potentially even more surprising is that these innovations aren't major. Rather, the most impactful changes are likely to be found in improving care delivery and making information more accessible to the appropriate individuals.
Let's dive into some concrete solutions.
Healthcare technologies to improve productivity in healthcare
Think of the tasks that are the most time consuming for healthcare providers. What likely comes to mind is appointment scheduling, returning patient phone calls, filling prescriptions, and charting your patient interactions.
Case management software
A great way to increase productivity in healthcare organizations is to make case management and patient communication easier. On the whole, two-way SMS messaging is the direction the world is moving toward, health care included. Texting makes it easy to keep in touch with patients regarding all facets of their care. Even more, patients find value and freedom in the ability to text their providers.
When combined with an electronic health record (EHR) software integration, conversations in OhMD are able to be easily transferred to patient charts with the click of a button. Forget the days of manually inputting patient conversations into charts. An EHR integration saves time and makes managing patient communication easier and more accurate than ever before.
Appointment scheduling and reminder tools
Forgotten schedulings are the most common reason for patient no-shows and missed appointments. A great way to reduce this is to leverage appointment reminder and scheduling aids.
Think of some of your most common conversations with patients. Appointment requests and prescription refills likely come to mind. Automating these processes would combat those missed opportunities to care for your patients without heavy lifting on the part of your team. OhMD takes a unique approach to this effort by putting the power in the hands of the patient. Using OhMD Autopilot, patients are able to interact with your practice without you having to manually ask them the routine questions associated with the patient communication tasks you have to repeat throughout the day.
For example, imagine getting all the information you need for a refill request without having to ask for them in a one-on-one conversation. Autopilot asks all the questions over text message and gathers all the responses for you in the patient's chat. You can then jump in with any additional questions or follow ups. It balances smart, convenient automation with your human touch on the conversation.
Extending the value for you and your patient, Broadcast perfectly accompanies Autopilot, as it allows for sending bulk messages to patients with just a few clicks. This means that you're able to send individualized appointment reminders to patients without having to place a phone call. Broadcast reminders are customizable to include patient name, appointment date and time, and any pre-appointment instructions.
Long-time OhMD organization Pediatric Care of Ogden found that using a combination of Autopilot and Broadcast allowed them to decrease no-shows by 13% and save staff massive amounts of time. This aligns with analysis that suggests that automating scheduling and reminders will not only save time, but help to reduce the burden of the national physician shortage.
Call funneling and voicemail transcription
Call volume is a major barrier to practice success and productivity in healthcare, especially given the current physician shortage. Many practices turned to a live phone attendant to help resolve this issue. However, in many cases this effort generally is not able to actually reduce call volume. Instead, practices are finding that they have to add staff to the team who are solely focused on addressing patient calls.
That's where an automated contact center and call funneling tool becomes a necessity. Generally, call funneling allows for patient communication to come through channels of the patient's choice. OhMD's Virtual Phone Assistant, for example, gives patients the option to hang up and have a two-way text conversation with your practice rather than waiting on hold or leaving a voicemail. You then have the freedom to triage those messages when it's convenient for you, all asynchronously.
If a patient does choose to leave a voicemail, Virtual Phone Assistant transcribes the message for you. The transcription and a recording of the message are then dropped into the patient's chat thread automatically- both of which can then be easily exported to your EHR!
If you do deem a return call necessary, you can call the patient back directly in OhMD right from their chat thread. OhMD tracks the start and end time of the call as well as the call duration for billing purposes.
Patient feedback software
Your patients have valuable feedback. They likely even have information on where your workflow is not optimized for the patient experience. Asking for patient reviews gives your practice the opportunity to identify any improvements that could be made.
Choosing the right tools for your practice can feel like a formidable task. But increasing productivity in healthcare is a worthwhile task to reduce burnout, better care coordination, improve patient outcomes, and increase employee satisfaction.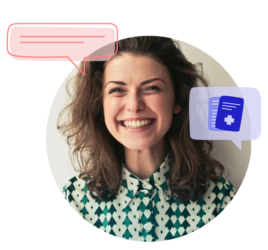 Improve your productivity, effortlessly
Interested in improving your office workflows? Let's chat!