Almost every physician in private practice today understands the fear that comes with revenue disruption. For dermatologists, plastic surgeons and doctors in many other fields, the pandemic stalled business. Though it was scary for all, those with credit lines had a safety net.
A business credit card is an essential tool because it allows you to pay bills and handle payroll when a crisis strikes, whether that's declining business, insurance issues or a pandemic lockdown. When you have credit available, you can operate with confidence. You can also grow, hiring new staff or buying new equipment.
But there's no good reason to overpay for that security. If you have not looked at your business credit card in recent months, now is a great time to do an annual review.
Evaluating your card and considering other options allows you to get the best rates, increase cost savings and maximize your power as a buyer. A card with the right features can save your practice thousands of dollars and help streamline practice management. This quick guide can show you how to choose a business credit card for your healthcare practice.
Give Your Business Credit Card a Checkup
Start with a refresher on your current card. Log into your account or call a service rep and examine the credit line, the interest rate and features such as discounts or cash back. Then, take it a step farther and evaluate how you use the card. Do you eliminate your balance every month? How much do you spend annually? Get a strong sense of the role your card card plays in financing your practice.
The next step is to do some research on alternatives. You are looking for a card with lower fees, higher discounts and better benefits, all of which will combine to save you money in the coming year. While it is tempting to focus on interest rates, which are easily compared, rates are only one of many factors. If you are not carrying a balance, you are free to shop for cards based on cost-saving features. Here are some suggestions for how to choose a business credit card that meets your needs.
Use A Card Made for Doctors. A card designed with medical practices in mind can be a very smart financing option. Medical cards often partner with medical vendors to provide savings on the supplies doctors use. For example, if you buy $2,000 in supplies each month and your new card offers you a 10% discount, that's $200 a month—$2,400 a year—back in your pocket, for supplies you already buy.

Eliminate Costly Fees. Fees are the opposite of savings—they cost you money. Unlike personal cards, where the charges are sometimes low enough to overlook, business card fees can run to hundreds of dollars. If your current card charges an annual fee, or for basic services like extra cards, it's time to make a change. There are plenty of no-fee cards on the market.

Increase Cash Back. Do not blow off cash-back systems. In many cases, they offer real, tangible savings. Look for the highest percentage you can find on medical practice expenses; 5% would be an excellent choice, even if only available with certain vendors. You can adjust your buying to maximize savings. Also, make sure the rewards are unlimited.
Explore Relevant Benefits. Many business credit cards offer benefits that can save you money. For example, a free membership to Costco Executive can save you money on office supplies. A free membership to Amazon Business Prime can save on shipping. Savings on membership fees alone can add up to hundreds of dollars every year.
Look for Time-Saving Features. Modern credit cards are business tools, and that means they can help streamline practice management. A card that integrates seamlessly with bank accounts and accounting software, or that offers automatic reconciliation, can save many hours of manual work for your staff or your accountant each week. That increases efficiency and lowers costs.
Of course, there is more to learn about how business credit cards work and how to make yours work harder. Read Nitra's Financing Medical Practice Expenses guide to understand how a business credit card can be a smart financing option for doctors. Then, do some research and find the right solution for your practice.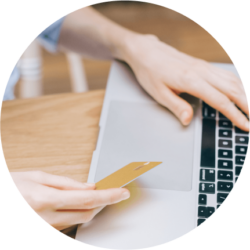 Smart Finance
Built for Healthcare Practices
Earn the highest cash back rewards on your medical purchases including OhMD.
This guest post brought to you by Nitra, partner of OhMD.