Have you ever had a package go missing or had questions about an item you wanted to buy? Live website chat may have been your go-to solution to get answers. In the healthcare setting, tools like this could come in handy, but very few were built with healthcare providers specifically in mind.
If you have ever looked for a secure live chat for your practice you've likely come across many large companies touting products that are, no doubt, great for e-commerce buyers, but less so for a healthcare audience.
Let's face it…
Healthcare is nuanced.
What healthcare providers want at the highest level are tools built specifically for them.
The "must haves" of secure live chat
When we search the internet for a solution that can help us optimize our practice sites, we're likely to Google something along the lines of "website chat for healthcare." We don't want something made for a different industry that is simply retrofitted for healthcare.
There are conditions that need to be met simply because we work in healthcare.
Providers need a partner who understands and can solve for a practice's unique problems.
Unfortunately, not all web chat for healthcare platform providers understand or can back up claims around two very simple things.
1. It has to be secure.
HIPAA compliance is a very real thing with very real consequences for not meeting requirements. Whatever patient communication tools you use have to be secure, not only for you as the provider, but also on the patient end.
Unfortunately, not every chat tool company out there realizes this.
We have seen tools out in our searches that miss critical components and some clear lack of understanding around compliance. That's why it's so important that you do your due diligence when looking for a web chat tool.
2. It has to be easy to use.
Far too often we see website chat tools out there that are just too complicated.
Want to set yourself apart from other medical practices using live chat? Make sure the web chat tool you choose is easy to use and delivers value when patients engage.
Delivering value means that your team has to buy-in to using it as well. This is another component to consider as you make a decision in your website chat tool purchase.
Ask yourself the critical questions right up front:
Can I implement this easily?
Is it intuitive enough for both patients and our care team to use?
Can I customize it to my specific needs?
Will it make our lives easier?
The best communication tools tend to be simple ones that streamline the conversation and allow patients to get answers as quickly as possible. With OhMD, for example, when patients message in, your staff will be alerted to the new chat directly through their work station.
While this may seem like table stakes when comparing secure live chat solutions, the real OhMD difference is clear in how the conversations are collected into a single chat record for the patient.
Whether the patient starts a live chat on your website, calls your office, or sends an SMS text, every interaction can easily flow into their chat record so conversations are never missed and staff won't have to monitor conversations in multiple places.
3. It has to offer personalization.
When patients come to your website, you want the HIPAA compliant live chat tool to catch their eye, yet align with your organization's brand. Whether it's attracting new patients or advising existing patients, think about how the tool you are considering fits in aesthetically with the rest of your site.
Building trust with patients is always an important piece of healthcare. A webchat tool that is cohesive with your website branding is one way to foster that ever-important trust with patients.
Invite visitors to message in by making the web chat easy to spot and clearly on-brand.
With OhMD, for example, you can customize things like the color of your website chat bubble to match your website's color scheme.
A uniform look is just the beginning, though.
4. Messaging has to be customizable.
How can you draw the patient into a chat?
Grab a website visitor's attention by customizing a prompt message that will invite them to chat as they scroll the site. When the visitor enters the chat, make sure it feels personal to your organization.
Edit the icon or avatar for your side of the conversation. Choose an image that will best fit your practice, like leveraging your organization's logo, or maybe using a picture of the doctor leading your practice. The choice is up to you.
5. The ability for a human touch is critical.
A huge benefit of live chat on your healthcare website is the advantage of human connection.
It goes an extremely long way to building the trust and strong relationships that result in the best possible health outcomes. In fact, studies show that a live chat assistant positively influences customer attitudes and trust towards your organization.
With highly engaged patients eager to be seen at your practice, you'll be on the other side ready to help them manage their health needs.
But what about when you're not in the office? What happens when you're attending to other patients and projects and can't immediately get back to incoming chats?
This is where automated messaging can play a high value role as you step away from the keyboard or if you have repeated workflows for incoming conversations.
6. Automation matters. A lot.
Automation while using website chat for healthcare can make healthcare professionals' workflow easier and more efficient.
Unlike your physical office, the doors to your website are open 24/7.
When looking to purchase a secure live chat tool for your practice's website, you want to make sure you will have the ability to customize your messaging when you're closed, setting expectations with visitors as to when you will get back to them.
With OhMD, you can create auto-responder messages that engage with visitors on your website even when you're not there to answer directly.
This can be accomplished simply by setting your website chat hours to match your office hours, and creating messaging to trigger outside of those hours.
7. It has to take patient's choices into consideration.
Some HIPAA compliant live chat tools, like OhMD, for example, offer a contact card that helps you stay in touch. You can set up a simple to follow contact form that collects all the necessary information you'll need to respond effectively.
With control over which information you ask for in the contact form, you can give the visitor choices in how they prefer you respond.
One thing that makes OhMD unique is that it offers multiple channels of communication. The choice of how to connect can either be yours…or theirs.
Whether it's by texting, calling, or messaging back through web chat, you can connect quickly about their healthcare needs or give them the choice by adding a field for preferred response. This way you ensure you'll be connecting on their terms.
The record of the chat will be attributed and connected to all the other chats on their record whether its texts, calls, or even video visits.
How to leverage your new secure web chat tools
Once you've chosen the HIPAA compliant web chat tool for your practice, what do you do next?
How can you stay in touch with patients when they chat into live website chat? Here are a few best practices and ways to leverage your new secure live chat solution.
1. Patient Acquisition
Web chat is the perfect solution for acquiring new patients that visit your website. Get patients to choose your practice with your quick responses and an easy patient acquisition process when they message in through web chat.
Adding a web chat tool to your website means that new or existing patients will be messaging into your practice via your website. A web chat tool with features that allow for quick information gathering is key in this scenario, as it allows you to reach back out to patients who came in via webchat.
Knowing that, a web chat tool built with a customizable contact card option will help. You collect only the information you need to stay in touch with patients. Require a phone number so you'll be able to add them directly into your texting platform as a patient.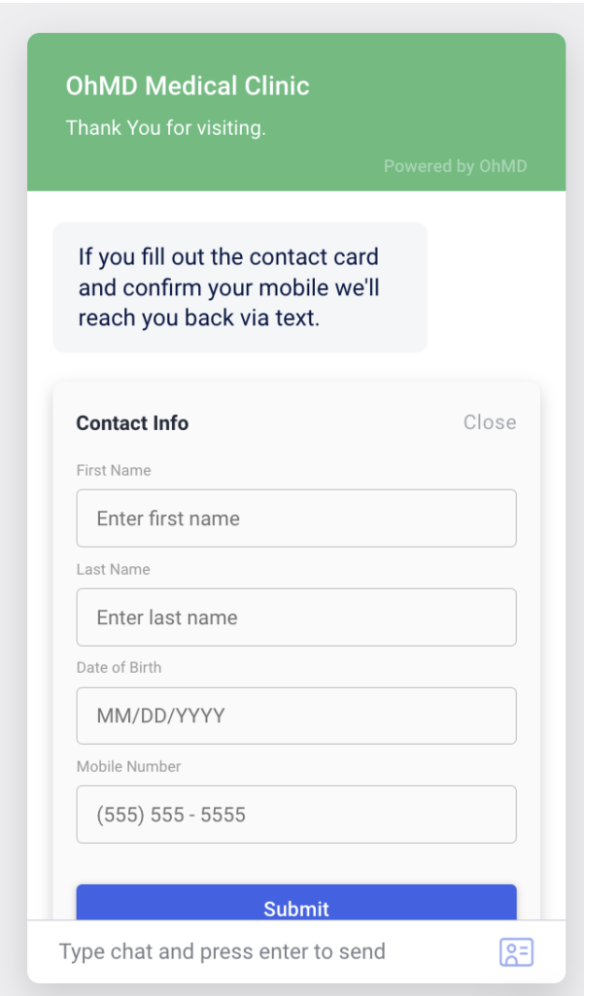 2. Appointment Scheduling
Healthcare professionals are always looking for easy ways to schedule appointments that won't require the phone. That's where web chat comes in. New and referring patients can message in through web chat to schedule an appointment. Like sending a text message, and even easier than calling, your website chat tool is just another way to make the scheduling process easier.
Visitors can use web chat to ask if there are any available appointments or if you are accepting new patients. You can directly respond through a live chat to work through scheduling an appointment.
Have a "request an appointment" page on your website? Trigger web chat to appear on that page to help grow your practice and get patients in the door. Invite them to chat through a contact card to acquire all the necessary information needed to set up an appointment.
3. Referral Management
To avoid referral leakage, you want to make it as simple as possible for referred patients to schedule an appointment at your practice. Adding a web chat tool to your referral page makes it simple to get high referral engagement.
You can have referred patients use web chat to easily input their contact information. You can then have your staff get back to them when they have a free moment. Customizing fields within web chat allows you to get the necessary information from patients.
In addition, you can have referring providers message you through web chat. This can help cut down on phone calls, emails, or faxes when referring patients.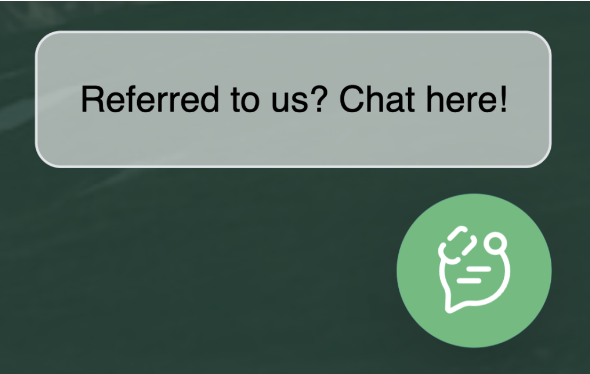 Make things simple and your patients will love you for it
A secure live chat is a no-brainer for easy patient communication and immediate support from your staff.
By doing your research up front you can make the right choice when it comes to purchasing. By setting it up to work for you and your staff you can make a positive impact on patient experience. Oh, and you will do all of this while setting yourself apart from the competition.
Whether it's a new patient scheduling an appointment or an existing patient asking a question, start the patient journey make it simple to start the conversation.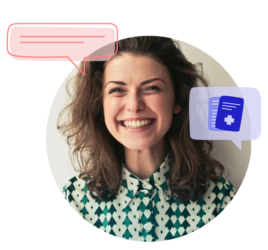 Improving the patient experience is one text away
See why over 50,000 clinicians choose OhMD for patient texting