As a healthcare practitioner, choosing the right credit card is important for managing your practice's finances. In this post, we'll explore the benefits and key differences of using a business credit card vs. personal card for your healthcare practice, including separation of personal and business finances, potential liability issues, credit score impact, and increased spending limits.*
Keep your finances organized with a business credit card
Separation of personal and business finances is incredibly important. As a small business you need to keep your records in order, from patient information through to your finances. Using a separate credit card for your healthcare practice can help you keep your personal and business finances separate, which can make it easier to track business and personal expenses and manage your budget.
By using a business card specifically, as the business owner, you can clearly see all of your practice's financial transactions in one place, which can be helpful for accounting and tax purposes. It's also more professional to use a credit card specifically for business-related purchases, rather than mixing business and personal charges on a single card.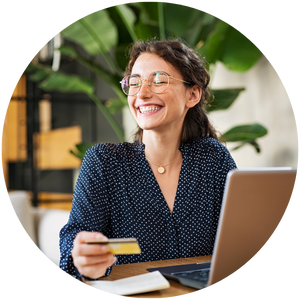 Turbocharge your practice spend
The Nitra card can put cash back in your pocket on all of your practice's purchases.
Learn more

The risks of using a personal credit card for business purchases
Protecting yourself goes a long way in protecting your business and your employees.
If you use your personal credit card for business purchases, you may be personally liable for any debts incurred by your practice. This means that if your practice defaults on a payment or is sued, you may be held responsible for paying off the debt. This can be a significant risk, especially if your practice experiences financial difficulties or is involved in a legal dispute. As a business leader you need to protect yourself as well as your business credit score.
Nitra's Head of Marketing, Maud Ricaurte, details the considerations you must make as a healthcare practitioner when deciding on a business credit card vs personal card.
By using a business credit card, you may be able to limit your personal liability and protect your assets. While some sole proprietors may choose a personal card, a business credit card can be especially important if you are a partner in a multiple physician practice or have multiple owners.

In these scenarios, instead of a personal credit card, choose a business credit card that underwrites the entire business, centralizing the liability with the business rather than any one individual.
The potential negative impact on your personal credit score
If you have a credit card, you know that your personal credit score may be affected by the amount of debt you carry and your payment history. If you use your personal credit card for business purchases, it may be more difficult to keep your balance low and make timely payments, as you may have to juggle both personal and business expenses on the same card. Credit bureaus don't take kindly to those who don't make timely payments. This can negatively impact your credit score, which can make it more difficult to borrow money or secure financing in the future.
Using a business credit card specifically for business expenses can help you avoid this issue, as you can focus on managing your business debts separately from your personal debts. Nitra offers a solution tailored to the specific needs of doctors – underwriting the business while enabling you to accrue valuable rewards and benefits. This can help you maintain a healthy credit score and keep your personal and business finances separate while streamlining your practice's spend management.
Offset the cost of borrowing with a business credit card rewards program
Using a business credit card for your healthcare practice can offer potential tax benefits that can help you save money and manage your finances more effectively. Some business credit cards offer rewards programs that allow you to earn points, cash back, or miles for your business spending. You can then use these rewards to offset the cost of business expenses, such as travel, office supplies, or employee training.
A business credit card can also help you manage your cash flow more effectively by offering features such as 0% intro APR periods and spending limits that can help you stay within budget. Let's explore.
Make large business purchases with ease thanks to higher spending limits
Business credit cards may offer higher limits compared to personal credit cards, which can be useful if you need to make large purchases for your healthcare practice. For example, you may need to buy new medical equipment, renovate your office, or hire additional staff, which can require significant upfront costs.
Many doctors may have trouble getting approved for the high credit limits they need. A Nitra card comes with an enhanced autopay feature which allows you to trigger automatic payments on your balance when you reach a certain threshold set by you. This means you don't need to manually pay down before making a large medical purchase.
A higher credit limit can give you more flexibility to make these purchases and manage your cash flow. In addition, higher spending limits can help you avoid reaching your credit limit and incurring over-limit fees, which can be costly and negatively impact your credit.
APR is only part of the equation
As you consider which credit card is right for your practice, it's important to carefully review the terms and conditions, including interest rates, fees, rewards, and payment terms. By doing your research and choosing a credit card that aligns with your practice's needs, you can make informed decisions that will benefit your business in the long run.
For example, the APR, or annual percentage rate, is an important factor to consider when choosing a business credit card for your medical practice. The APR determines the interest rate that you will be charged on unpaid balances, and it can have a significant impact on your overall costs and financial management.
A good APR can help you save money on interest charges and make it easier to pay off your credit card balances. If you have a low APR, you will pay less in interest charges on unpaid balances, which can make it easier to manage your finances and avoid getting into debt. It's important to compare APRs among different credit card offers and choose a card with a competitive rate.

While APR is certainly a factor to consider, it isn't the only thing you should base your decision on.
Arguably the most important factor to consider when choosing a card, specifically for healthcare practice purchasing, is its spend management tools.
Choosing the card that makes your life easier
You now have a good idea of what to look for when deciding between a business credit card vs. personal credit card. The next thing you should ask yourself is:

What is going to make life easier for my clinic's staff?

You want a card that is built for you and your needs.

The Nitra business credit card, for example, was created specifically with healthcare practitioners in mind. With the Nitra card you can earn high cash back rewards on purchases for your medical practices from equipment to software, including OhMD. Additionally, Nitra makes work easier for your staff with virtual cards – so they can spend on behalf of the business – and spend management tools they will love.
Hear why the Nitra card is different.
When you are choosing between cards we might suggest making a list of all the benefits, especially spend management, in one place so you can compare one business credit card to another.

With a card like Nitra, for example, the benefits include:
Virtual cards – Issue cards to anyone in the practice with a few clicks in the Nitra portal (no need to call in).

These cards can be named (e.g. "McKesson spend" or "Team lunches") so that users are clear on where and how you want them to be used. Alternatively, virtual cards can be assigned to an individual.

Admin controls – For any virtual card you issue you can set a one-time, weekly, monthly, or annual spend limit on the card to proactively control spend and can lock/unlock the card at any time.

Simple reconciliation – Users can upload transaction documentation seamlessly via text images of paper receipts to a centralized number or by forwarding an invoice via email. The documents are matched to the right transaction by an AI tool, along with any memos the user texts/emails. In addition, a direct link to common accounting platforms can cut down time spent reconciling card transactions to ledgers.

Enhanced Autopay – Trigger automatic payments on your balance when you reach the threshold you set. This means you don't need to manually pay down before making a large purchase.

Spend and payment flexibility – The Nitra card gives you what is often referred to as "float," which is essentially time you gain from spending on any card and delaying payment until the statement is cut. Nitra offers 30 days of float which allows you to use that cash flow in other places where you need to spend.

Cash back on purchases – Nitra offers high cash back rewards – up to 5% – on your medical purchases

Deals and discounts – Take advantage of ongoing deals, discounts and free trial offers – all designed with healthcare professionals in mind, including OhMD.
Whether you are a doctor, working at the front desk, or working behind the scenes, care team members are busy people. Having flexibility with the right spend management tools can help to save time and energy, while allowing you to focus more on patient care and experience.
Business Credit Card vs. Personal Card? Choose with confidence.
We've gone over just how important it is to consider the needs of your practice and what to keep an eye out for when deciding how to finance your business. The card you choose to use to make business-related purchases has to work for you.
Doing the work upfront gives you the opportunity to ensure that the card you choose does just that.
With Nitra's business credit card built specifically for healthcare, you can organize, automate, and secure your vendor payments easily.
Nitra also offers integration with bank accounts and accounting software that can save your front office staff and finance department time and money. It makes bookkeeping simple as it consolidates receipts and billing information within the platform. No manual work is required as you can seamlessly upload invoices and receipts to the platform.
All this, plus Nitra has no annual fee and offers a statement credit for Amazon Business Prime Essentials and Costco Executive memberships.
Healthcare providers are busy. Managing multiple cards and multiple tools is not efficient for most practices. Consolidating your financial responsibilities into one card and one program can be a huge benefit when finding the best credit card for you.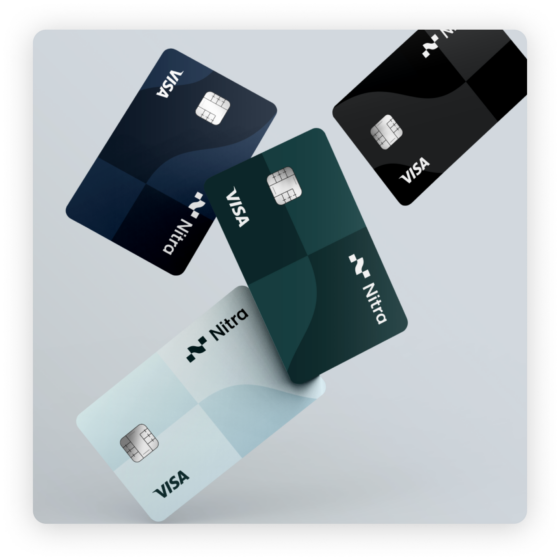 Smart Finance
Built for Healthcare Practices
Earn high cash back rewards on your medical purchases including OhMD.
This post brought to you in partnership with Nitra.

*Disclaimer: The views and opinions expressed in this article are based on research and interviews with Nitra representatives. They should not be considered as financial advice. The author and interviewees are not licensed financial advisors and any information shared on this article is for informational purposes only. It is important to conduct your own research and/or consult with a financial professional before making any financial decisions.