Putting pre-visit planning into practice has proven to positively impact medical practices time and time again. In fact, medical chart reviews can increase office efficiency and save staff time- up to 30 minutes per day. When put into context, that means that a practice with 220 work days per year, where a health care provider's time costs roughly $3 per minute and staff time costs $1 per minute, yearly savings rack up to nearly $27,000.
Yes, you read that right.
That's enough money to buy a gently used car. Or go on an extravagant vacation. Or even put a down payment on a new house. Not a small figure by any means.
Aside from the undeniable financial benefits of advanced medical chart reviews, we also need to consider the time-saving and improved patient care benefits. Even more, there is the fact that chart preparation means smoother practice workflows and happier, less burnt out, providers.
How to go about implementing medical chart reviews at your practice
Right off the bat, we should acknowledge that introducing a chart review process can be daunting, and can make for a tough transition. Given this, it may be best to start by doing only a few advance medical chart reviews per day, and slowly increase that figure until you are able to accommodate chart reviews for every patient visit.
Now that we've covered that base, let's take a look at how you may want to initiate this practice.
Use appointment reminders to your advantage
Forgetting about an appointment is the most common reason for patient no-shows. Eliminate that risk by reminding patients of their appointments a month, week, or day in advance. This allows patients to take the necessary time off work and locate transportation to and from their scheduled appointment. One way to manage your appointment reminders is to make use of an automated reminder tool, like the OhMD Broadcast feature. A tool like this allows you to ensure patients know of their upcoming appointment and can prepare accordingly.
When boiled down, this means that the pre-visit planning you do for a patient is less likely to go to waste with a no-show.
Consider pre-appointment forms
Using a pre-visit form, you can catch up on changes and other new information since the patient's last appointment. You can also gather more detailed information as to why the patient needs to be seen, which will simplify the visit once it comes time.
An electronic, fillable form makes it much more likely that you'll receive these vital responses from patients. This is especially true if you're able to text them the link to the form, and they can complete it right from their mobile device.
This improves the patient experience and increases the likelihood that you'll be seeing the submitted form before the appointment.
Assign staff members to organize pertinent information
Whether this be nurses, medical assistants, or physicians, someone has to take charge of medical chart reviews for each patient. This would include reading through any notes from previous appointments as well as pre-appointment forms and making lab results or other test results easily accessible for the care provider.
Staff in charge of chart preparation will also want to identify if a patient will be due for any annual labs, immunizations, referrals, preventative health screenings, or prescription refills.
One easy way to keep track of this kind of information is through OhMD's shared notes and tagging tools. Held within the patient conversation, these tools allow all staff to see the tags or notes applied to a given patient. They can also be easily removed or edited as necessary. Using these features, all care team members can keep track of valuable patient information securely, and can even filter patients by tags.
Leverage the physician handoff
Most practices already make use of the physician handoff, but not necessarily to their highest capability. An intake nurse or medical assistant often learns valuable information about the patient during the rooming process. Taking a minute or two to catch the physician up can help to focus the appointment and allow the team to best manage the needs and expectations of the patient.
Performing a handoff also shows the patient that their care team is listening to them, and is coordinating their care. For example, a provider noting that "Nurse ________ mentioned that you had concerns about the dizzy spells you've been experiencing. Would you mind sharing more about that with me?" shows the patient that they are in capable, collaborative hands.
With pre-visit planning and implementing medical chart reviews ahead of upcoming appointments, you are able to improve the healthcare experience for all involved. Patient satisfaction will increase when they see that their needs are being met effectively and with great attention to detail. On top of that, your practice will save time and money, which generally makes everyone happier.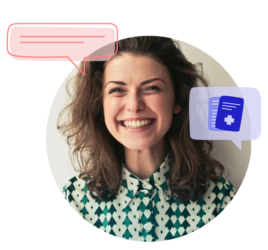 Improving patient communication is one text away
See why over 50,000 clinicians choose OhMD for patient communication