In some context or another, we are all patients. We have all hurriedly completed paper forms in the waiting room just minutes before seeing a healthcare professional. This was likely a stressful experience for you, and left your provider with minimal time to review your chart.
Imagine a world where you are given the opportunity to complete online intake forms ahead of time. You don't have to rush through important information, and your provider is able to review your forms on their own timeline.
Foster a better patient experience
A recent study suggests that a large majority of patients will not remain with a healthcare provider if their online experience is unsatisfactory. In fact, online presence and reviews are major reasons why patients choose to visit one provider over another.
Online intake forms make completing paperwork easier and less taxing. Let's be honest, completing paperwork is never a fun task. However, giving patients the opportunity to complete your online intake forms on their terms makes the patient experience far more enjoyable.
Allowing patients to complete online intake forms when it is convenient for them also shows that you respect their time. Using online forms, patients won't have to come in 10 minutes early for their appointment to fill out paperwork. Instead, patients are able to come in for their appointment at their scheduled time. The patient is able to relax knowing that they are prepared for their appointment before walking in the door.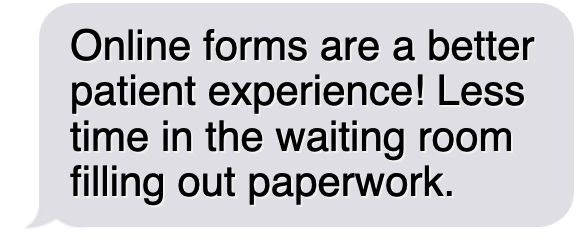 Online intake forms also make the check-in process quick and easy. Patients are able to check in at the front desk and then find a seat. They won't need a clipboard full of forms handpicked just for them. This will likely reduce any bottleneck effects you have when patients are coming en masse.
Deliver better patient care
Delivering satisfactory care to your patients is of the utmost importance. Technology can make blowing patient expectations out of the water effortless and attainable.
If patients are completing online intake forms ahead of their appointment, you and your staff will have the opportunity to review paperwork according to your schedule. Over are the days of rushing to skim over past medical history and active medication lists before walking into the patient's room. With online intake forms, you can evaluate forms with the attention they require.
Streamline workflow
The worst part about paper forms is making sure forms are completed fully and submitted correctly. Inevitably, patients will miss a signature or even an entire page of forms when filling them out in the paper version. We've heard horror stories about patients having to drive all the way back to the doctor's office because they forgot to sign a single form.
Not fun.
Online intake forms completely eliminate this issue as they will not allow patients to submit an incomplete form and you can fill them out from wherever you are.
Online intake forms also decrease the amount of administrative time dedicated to paperwork. Without online intake forms, staff spend valuable time verifying that forms are fully completed and entered in the EHR system. Electronic forms allow staff to focus on bettering the patient experience.

With smart forms, you can also add conditional logic so that questions are only asked if a previous question meets the necessary criteria for a follow up question. This cuts down on the patient's time and gives them a more personalized experience.
Integrate your forms platform and your EHR, and online intake forms completed by patients will automatically transfer into their medical records. This eliminates the need to drag and drop forms, as well as the risk of missing a form or putting it into the wrong patient records.
Protect PHI
Online intake forms are more likely to be accurate when patients directly provide their own information. Even more, form tools that are integrated with your EHR eradicate the risk of misplacing patient records through human error. The worry that patient information will fall into the wrong hands will virtually disappear.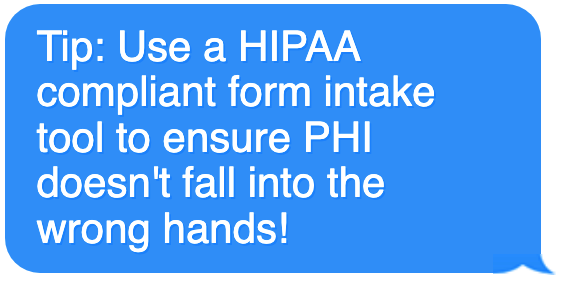 Also very important is the fact that digitized documents are easier to immediately secure. Patient information submitted online goes through less people, and leaves no physical trail. Thus, the opportunity for identity theft decreases.
Reduce spending on paper goods
Online intake form software, like that offered by OhMD, eliminates the need to spend money on paper or ink to print forms. You will also be less likely to run into printer issues, and will therefore save money on printer maintenance. Yes, electronic form sites often have a monthly subscription fee. However, that fee is generally fixed and generally does not have surprise charges. Tech support is often included in that fee, as well.
You are also able to text or email your patients a link to their forms. Not only does this reduce the time it takes for patients to receive and return their forms, but it also saves you money because you will no longer need to buy envelopes or stamps.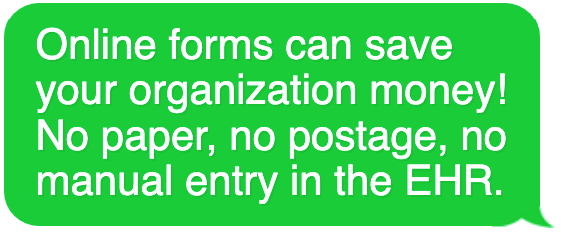 Making the shift to electronic forms is becoming increasingly more common. Given the rise in telehealth appointments due to the COVID-19 pandemic, online intake forms are becoming increasingly common. These forms make patient centered care more attainable and they also take on some of the administrative workload. Make everyone's lives easier and make the transition to online intake forms by contacting OhMD.