What is care coordination?
Care coordination is the organization of a patient's health care activities between two or more participants (often including providers, specialists, and the patient) involved in a patient's care. Organized care is the product of providers exchanging information about a patient's treatment plan and includes coordinating all necessary resources to provide the optimal health outcome. Ultimately, the goals of coordinated care are to improve health outcomes by synchronizing information and lower costs by eliminating redundant tests and procedures. A care coordination platform allows providers to quickly and securely share patient records to ensure the best care is provided.

Why is managed care necessary?
In 2006, the Institute for Healthcare Improvement developed a framework used to describe an approach to optimizing the healthcare system. This framework is called the Triple Aim.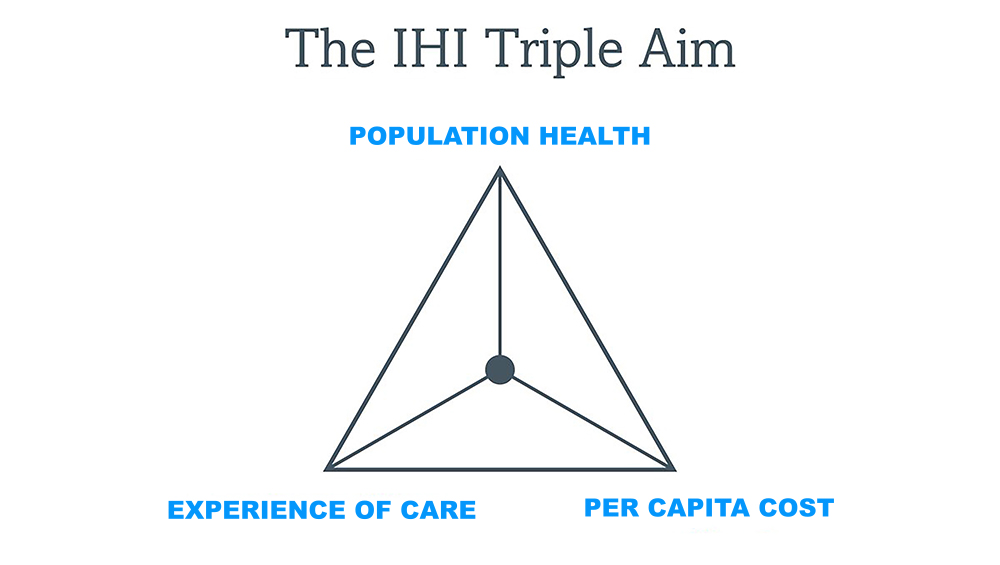 The Triple Aim accurately encompasses the benefits of successful care coordination. When done well, patients have an improved care experience, better health outcomes, and lower costs. A successful care coordination platform streamlines the care process to include all points on the Triple Aim triangle.
Essential elements of care coordination
To practice successful care management, you must have the following:
Excellent communication among providers and specialists
Clear access to a variety of healthcare services and providers
Dedication to the optimal health outcome of the patient
Straightforward information that patients understand
Types of coordination
Primary Care
Primary care providers serve as the focal point for all health-based services needed in the day-to-day life of the patient. Practices provide strategies for maintaining and bettering health, preventing disease, counseling, diagnosis, and much more. Accordingly, primary care coordination requires communication between providers, specialists, and the patient.
Acute Care
Patients who seek immediate care from life-threatening injuries or severe health issues like a heart attack require extreme efficiency in the coordination of their care. Providers cannot risk wasting time attempting to communicate with colleagues when they need to focus on saving the patient's life. According to the American Journal of Critical Care, a care coordination platform that prioritizes efficient communication in provider handoffs is a critical aspect of reducing the mortality rate.
Long-term Care
Patients who must spend extensive amounts of time in the hospital often change levels of care, or even hospitals altogether, depending on the care needed. Treatment plans, medication, test results, and any other protected health information must be smoothly transmitted between hospitals and providers. An accurate, efficient, and secure care coordination platform is essential to making this transition successful.
Palliative Care
Hospice patients require a lot of communication as they often fluctuate between palliative and curative care. Active communication between palliative care providers and curative care providers is essential for ensuring patients are both happy and healthy. All team members rely on a method of communication that allows providers to share information immediately.
How can you implement care coordination in your practice?
To maximize patient satisfaction and strive to obtain the best health outcomes for your patients, implement a HIPAA compliant care coordination platform like OhMD in your practice. Through our application, you can communicate in real-time with colleagues, specialists, pharmacies, and patients.
Send instant messages, X-rays, lab results, insurance information, or any other document to colleagues in a matter of seconds without worrying about compliance issues. Spend more time caring for your patient and less time trying to get in touch with another provider.
Keep your mind at ease knowing we securely encrypt all communication. Only authorized users have access to messages, documents, and any other private information shared between you and your patients.
To learn more about implementing OhMD's care coordination platform in your practice today, schedule a demo.