As the methods of communication rapidly evolve, implementing text messaging in your practice grows in importance. Secure clinical communication allows patients and providers to correspond immediately and can largely impact health outcomes by increasing interaction between providers.
To administer the best possible care, health providers need convenient access to both protected health information (PHI) and their colleagues. Due to the privacy of PHI, a secure clinical communication platform is the only way to access this data. Additionally, colleagues may not be easily accessible at all times with an outdated communication system. Secure instant messaging between providers minimizes lost time spent trying to contact other health providers. All hospitals and health systems should invest in a messaging system, as it combines efficient and secure communication in an unprecedented way.
Must-haves for a healthcare messaging platform:
The SBAR Communication Tool
The SBAR technique is a framework that highlights some of the best practices for efficiently using a healthcare communication system. To establish the best patient health outcomes from your practice, combine this technique with a HIPAA compliant, secure clinical communication platform.
Situation (S)
A clinician provides a statement about the patient's situation and general information, such as:
"Hello, this is Tim Shaw from med-surg. I'm caring for Mr. Smith in room 16. I'm calling regarding his pain control."
Background (B)
The purpose of the background is to define the patient's diagnosis, their medical history, and current status. Important medical-based information is provided:
"Mr. Smith is a 57-year-old male patient who had a surgical repair of a broken foot yesterday. His current pain control plan is 650 mg of Tylenol every four hours. Mr. Smith does not have any known allergies, and this is his first time having any surgery."
Assessment (A)
At this stage, providers review the entirety of the current situation. Based on the background, tests, and other medical findings, the health professional states their professional conclusion:
"Mr. Smith ranks his pain as an 8/10 and is reporting a sharp pain in his upper ankle area. He does not want to get out of bed due to the increase in pain. All of his vital signs are stable."
Recommendation (R)
Now, the provider creates an action plan to best address the situation and communicates the next steps in the treatment plan, such as:
"I think that Mr. Smith would benefit from longer-lasting pain medication, perhaps morphine. What dosage would you prefer to order? Are there any additional exams you would like to authorize?"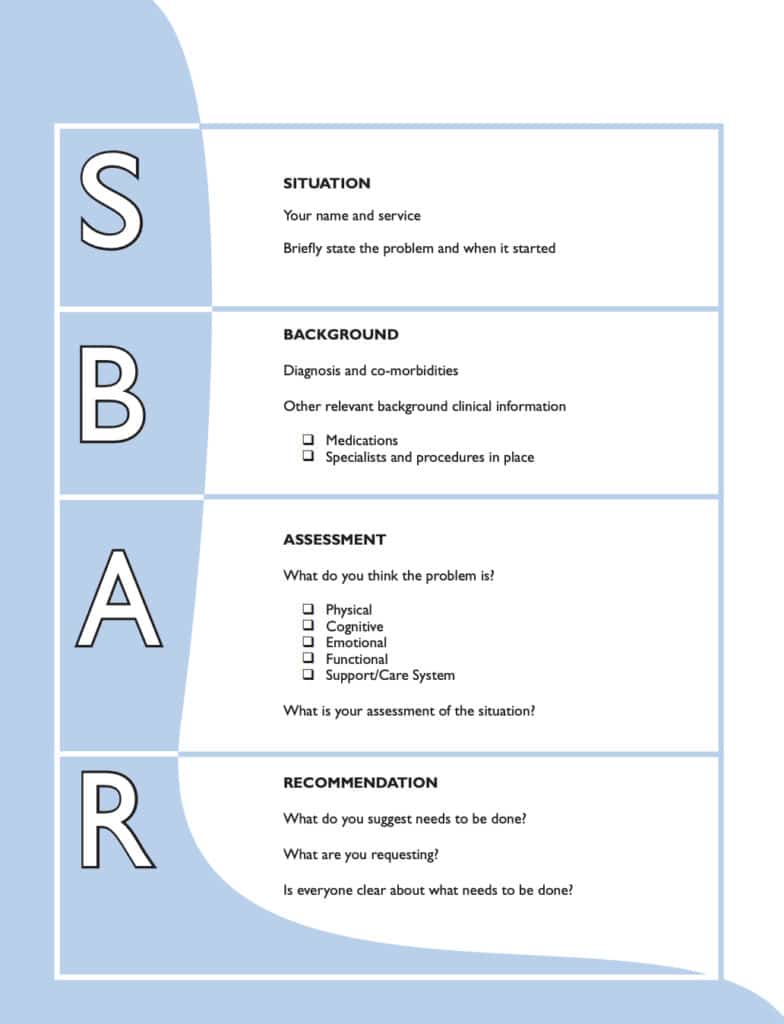 OhMD as a secure communication platform
Providers from over 5,000 organizations trust OhMD every day with their communications, and we are continually working to improve our service. Not only do we standards for creating a secure clinical communication platform, but we do so much more! From decreasing patient no-shows to keeping patients healthier than ever before, OhMD will bring your practice to the next level. Implement OhMD in your practice today to set a new standard for efficient communication and improve patient health outcomes.
To learn more about using OhMD as your practice's secure clinical communication platform, schedule a demo today!