In recent months, software companies have been rushing to roll out video conferencing to meet a growing demand for telehealth companies during the COVID-19 pandemic. While it is an invaluable resource, video alone can't satisfy the needs of a high functioning medical practice. That's why, according to Press Ganey, an increasing amount of patients across the US are seeing their providers transition to "mixed telemedicine". Unlike "full telemedicine", mixed telemedicine means a combination of encounters that are video-based, in-person, by telephone, email or text. The shift to telehealth in general has been overwhelming.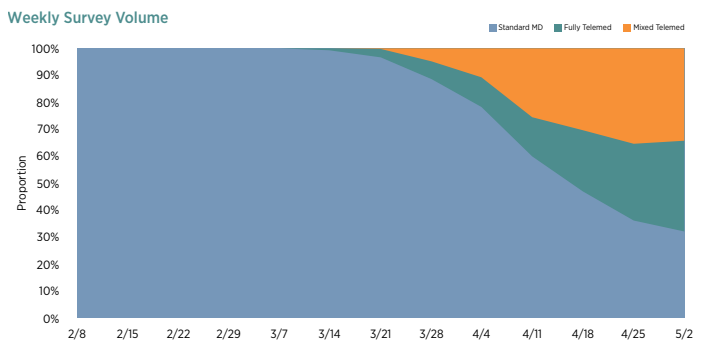 A Comprehensive Workflow
The patient experience today is not limited to just one communication method. OhMD goes beyond video to offer two-way patient texting, appointment reminders, electronic form capture, and live website chat, all within one telehealth company.
Here's what a typical patient-provider conversation looks like with OhMD:(Ex. OhMD Medical speaking with patient Jamie)
Day 1 – Reminder SMS. Jamie receives an appointment reminder 48 hours in advance with the forms needed to expedite the intake process. She can complete those right from her phone.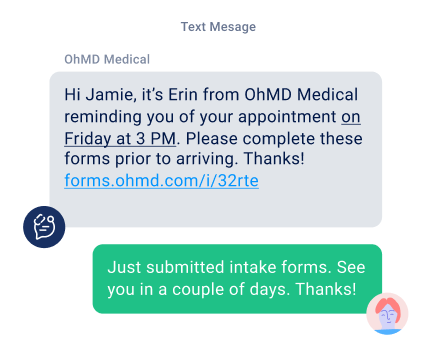 Day 3 – Patient Visit. The parking lot is the new waiting room, so Jamie texts the front desk when she parks and they let her know when to come in.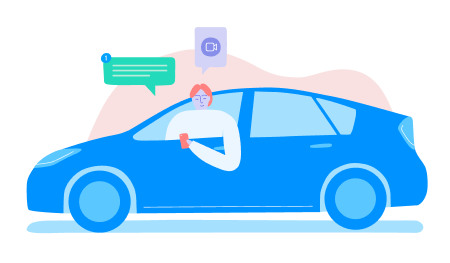 Day 4 – Video Visit. The next day, Jamie texts back a photo of her rash. "The medication is working, but I think I'm experiencing some side effects."
The OhMD Medical Care Team jumps on a video call with Jamie to get more details and explore options.
Follow-up and Patient Review. After the video visit, the team follows up with Jamie and requests a review. Since the Care Team offered prompt and thorough support when she needed it, Jamie writes a review highlighting her exceptional patient experience and positive outcome with this telehealth company.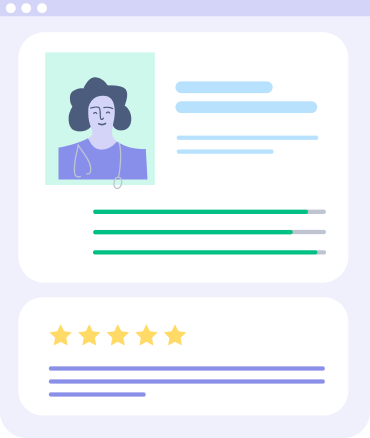 The different elements of practice workflow are seamlessly incorporated into the OhMD platform to allow doctors to thrive using mixed telemedicine all within one telehealth company.
The Drawback of Video-First Platforms
With video-first platforms like Zoom and Doxy Me, patients' interactions are limited by the confines of the platform. The only way to engage with their provider is in the video session itself. As we know, interaction between a patient and provider goes far beyond a 15 minute video call, and the telehealth company a practice uses should support this workflow.
Furthermore, with solutions like Zoom, patients not only have to click the video link from their email, but they have to download the Zoom app before they can video chat. The prerequisite for patients to have to download an app drastically limits a practice's patient access. Many patients are unwilling or unable to download an app.
Enter OhMD, the All-In-One Healthcare Platform
Now healthcare providers never need to leave one platform, or work with more than one telehealth company, to send appointment reminders with intake forms, launch video visits, or just follow up. Meanwhile, all the patient needs is a phone to text.
Effective healthcare is comprehensive. OhMD makes it simple.