Creating a cancellation policy is an important aspect of running a business. Your policy protects your practice by ensuring that your time is used to its fullest extent. A good cancellation policy should set out the terms and conditions under which a patient can cancel their appointment, and helps to manage expectations and minimize misunderstandings. Here are some tips on how to create an effective cancellation policy for your business, and some cancellation policy templates you can use for your practice.
Determine the scope of your cancellation policy
When determining the scope of your policy, it's important to consider what kinds of appointments it will apply to. Will it apply to all appointments or services, or only certain ones? For example, will your policy have different protocols for yearly physicals versus sick visits?
By determining the breadth of your policy up front, you can ensure that it is clear and easy for customers to understand.
Consider your business model
Before you create your cancellation policy, it's important to consider your business model and how it might impact your policy. If you operate on a high volume, low margin model, as most medical practices do, it means that you rely on a large number of patients scheduling and keeping appointments in order to turn a profit. In this case, you will want to have a more strict cancellation policy in order to minimize the impact of last minute cancellations on your practice. This might involve requiring a longer notice period or imposing stricter penalties for cancellations made close to the date of the appointment.
By considering your business model, you can create a cancellation policy that is appropriate for your organization and helps to protect your bottom line.
Determine the notice period
How far in advance do patients have to cancel their appointments with you?

We call this the "notice period" and it is critical to consider the amount of time and resources that your organization needs in order to fill a canceled slot as you build out your cancellation policy.

For example, if reaching out to patients on the waitlist is an easy task, and likely to get the slot filled, you may consider allowing for a shorter notice period. That said, if it is difficult to fill those slots, it may be worth requiring a longer notice period.
The cancellation notice period should also be reasonable and fair to patients. If you require too much advance notice, it might be difficult for customers to be aware of their schedules in advance and be able to cancel in the appropriate time frame.

On the other hand, if you don't require enough notice, it might be difficult for your organization to fill the canceled slot.
Overall, it's important to strike a balance between the needs of your business and the needs of your customers when determining the notice period for your cancellation policy.
Consider fees associated with cancellations
The notice period naturally dovetails into the next question you must answer when creating a policy:
If a patient does cancel, do we charge them a fee?
There are a few factors to consider when deciding whether to implement cancellation fees of any sort:
The notice period: Will you include a fee for patients who cancel within the notice period? What about those who cancel after the notice period has closed (i.e. last minute cancellations)?
The reason for the cancellation: Will the reason for cancellation have any impact on whether or not a fee is applied?
By considering these factors, you can create a cancellation policy that is fair to both your business and your patients.
Communicate your cancellation policy clearly
It's important to clearly communicate your cancellation policy to patients in order to minimize misunderstandings and manage expectations.
Here are a few tips for communicating your policy effectively:
Make it easy to find: Your cancellation policy should be easily accessible to patients on your website.
Keep it simple and clear: Use plain language and avoid using legal jargon. Clearly outline the terms and conditions of your policy, including the notice period, any fees or charges, and any exceptions or exclusions.
Provide examples: It can be helpful to provide examples of how your cancellation policy works in practice. For example, you might give examples of different scenarios and how they would be handled under your policy.
Include a copy of your policy in confirmations: When a patient makes an appointment, be sure to include a copy of your policy in the confirmation message. This helps to ensure that patients are aware of your policy from the outset.
Consider how you deliver your cancellation policy: If you want to be sure patients see your policy, you need to communicate it to them in a way that they're likely to see. In most cases, that means sending it to them via text along with the confirmation of their appointment.
Make canceling and rescheduling simple
Pair a comprehensive cancellation policy with patient texting and automation to make scheduling and rescheduling a breeze
See how!

By following these tips, you can effectively communicate your cancellation policy to customers and minimize misunderstandings.
Now that we've highlighted the importance of creating, and sticking to, a cancellation policy, let's consider what a cancellation policy template could look like.
Looking for a missed/cancellation policy template? Use ours!
What does messaging for a policy actually look like? Here are some quick cancellation policy templates you can swipe for your own use right now!
Appointment cancellation notice upon scheduling:
Appointment cancellation notice upon scheduling – with notice period:
How to cancel an appointment
How to reschedule an appointment:
Late cancellations & no-shows:
A Comprehensive and Transparent Cancellation Policy Wins
Making sure that patients are aware of your policy, no matter what it is, is key.
A well-crafted cancellation policy protects your business and sets clear expectations for your customers.
Consider factors such as scope, notice period, refunds, and communication when creating your policy.

This said, you also need to communicate your policy to your patients and do whatever you can to ensure they see it!

Have questions about our cancellation policy templates? Need more help with crafting the perfect policy and getting it out there efficiently to your patients? Healthcare providers across the country choose OhMD for two-way patient communication and we're here to assist in creating more meaningful conversations and a better patient experience.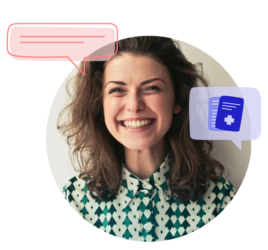 Improving your practice workflow is one text away
See why over 50,000 clinicians choose OhMD for patient texting