HIPAA Compliant Texting and Patient Communication | OhMD
---
Building patient loyalty in healthcare is becoming increasingly more important as competition continues to grow within the marketplace. In a world where convenience is king, delivering high quality care when and how the patient wants it can help to ensure someone continues to come back to your practice.
But how do you do it?

Ed Marx, Chief Digital Officer at Tech Mahindra Health and Life Sciences, sat down with us to discuss the ways in which practices can leverage technology to hyper-personalize the experience and create patient loyalty in healthcare.
Marx says he often gets flack from his peers in healthcare when he says the industry is five or ten years behind others. What he believes, though, is that healthcare can learn a lot of lessons from outside industries incorporating their best practices, particularly in digital transformation and building patient loyalty in healthcare.
In fact, he wrote a book on the topic. His "Healthcare Digital Transformation; How Consumerism, Technology and Pandemic are Accelerating the Future" was a 2020 best seller.
Check out part of the conversation with OhMD CEO Ethan Bechtel here:
Learning from other industries to create patient loyalty in healthcare:
Pure good people skills scaled by technology
"One concept is to know me. I want to be known," says Ed Marx.
He offers four examples of companies in other industries who achieve his loyalty through hyper-personalization:
1. USAA
USAA is always highly rated by J.D. Power for customer service satisfaction. So how do they do it?
Marx, a longtime USAA member, says wherever he was in his career, "They knew me". Because USAA used CRM (customer relationship management), they were able to update Marx' file any time he was promoted to a new military rank and greet him accordingly. He notes that many healthcare organizations are just starting to dip their toes into CRM, years later, as one way to build patient loyalty in healthcare.
"They knew that I'd gotten promoted. They'd always ask about my family…They knew me and it made me feel special. And by leveraging technology, it made me feel even more special," says Marx.
That level of hyper-personalization works to USAA's benefit because it's led Marx to remain a lifelong member.
2. American Airlines
No consumer service, including healthcare, is one size fits all. Marx says once a company knows you, they can personalize your experience to your preferences.
For example, Marx prefers to receive updates by text rather than by email, especially when he's traveling. "I don't want an email from American Airlines telling me my flight is delayed, I just want a text."
When a customer's preferences, particularly their preferred communication method, are stored and adhered to, the consumer feels heard and valued. The same can and should apply when creating patient loyalty in healthcare.
3. Oreo
In addition to Oreo cookies being vegan (yes, really!), they also offer a ton of options for hyper-personalization. Oreo fanatics can visit the website to personalize a pack of Oreos with colored creme, fudge dip, colorful sprinkles, and even print an uploaded photo onto the face of each cookie. When Marx shared this insight, we had to oblige: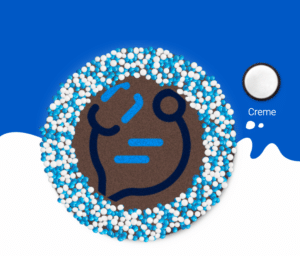 What can we learn from Oreo to grow patient loyalty in healthcare? Provide options for a personalized experience to make your patients feel special and appreciated. For example, you might create information tracks that patients who are receiving care can choose from, like a "pre-visit checkin" or a "what to expect during recovery" track. Allowing the patient to have this information delivered via their preferred communication method is another great way to expand personalization.

4. Purina
We can even learn from dog food brands in how we can build patient loyalty in healthcare. Purina Dog Chow lets you personalize your pet's food to meet their health and appetite needs. From their website, you can actually start a chat with Purina to answer questions on your dog's breed, name, age, weight, activity level and dietary restrictions. From there Purina serves up a list of recommended foods and which stores near you sell them.
Purina offers personalization and convenience with just a couple clicks, catering to your pet's health needs. Marx questions, "Why don't we do that in healthcare?"
How can we create fierce patient loyalty in healthcare?
Rule 1: Don't be overwhelmed by the idea of personalizing care. It doesn't need to be overly complicated. Marx offers up a very simple example from his own life.
Marx prefers holistic medicine. His doctor has built a relationship with him and knows his preference. Due to this knowledge, his doctor simply doesn't suggest that he take an aspirin or Tylenol. Instead, the doctor works with Marx to find a treatment plan geared toward his preference for holistic medicine.
No different than in other consumer industries, patients value an experience personalized to their preferences. Health is personal. Healthcare should be, too. 
Watch the full interview with Ed Marx of Tech Mahindra Health & Life Sciences on The Patient Conversation!
---