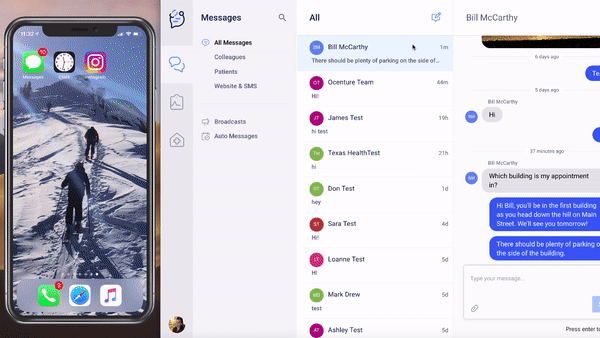 Practice telephones have become difficult to manage as this pandemic spreads across the country. OhMD gives practices the ability to communicate with patients through two-way texting, right from a computer.
And no matter which EHR you're using (Athenahealth, Epic, Cerner, Allscripts, etc.), these patient conversations can save directly to the patient's chart.
How does it help manage Coronavirus?
Two-way SMS texting with patients can help primary care, family practice, and pediatric practices manage and contain the spread of COVID-19.
Here's how you can use the OhMD platform to reduce the risk to both patients and staff, all from your computer with your existing staff/phone team:
Manage high call volume from anxious patients
Send mass text messaging to patients with instructions on where to be tested and information on isolation
Two-way SMS texting with patients to determine if they have been traveling
Texting with patients prior to allowing them into your waiting room based on symptoms
Triage patients while eliminating unnecessary physical contact
Post-visit text messaging communication with patients
If you're interested in using OhMD to help stop the spread of COVID-19, we're here to help take your practice live quickly. If you're interested in basic functionality for patient communication with our free offering to help address Coronavirus, click here.