These days, it's hard to get patients to answer the phone. Even fewer patients take the time to listen to voicemails. Unfortunately, this means patients are even more likely than ever to miss their appointment. When you can't reach your patients, you end up with empty appointment slots and lost revenue. Luckily, automated appointment reminder text messages are an effective way of reaching patients in a timely way.
As text messaging has become the preferred method of patient communication, it is now easier than ever to reach your patients. A quick SMS text message can easily replace a game of phone tag. And when you use OhMD to automate appointment reminder texts, you're guaranteed to decrease appointment no-shows.
Text appointment reminders, but better
There are all types of automated reminders. But you need automated reminders that actually work for your practice.
Patients don't want to be called during work or at home by robo-dialers. They aren't likely to listen to voicemails or read emails, and even text messages can get annoying when they are clearly just being blasted out by a computer.
This all feels like spam to patients.
This is how OhMD is different.
Our appointment reminder texts reach the patient via SMS like a personal text message from the practice appointment scheduler. The text reminder is truly a dialogue between the patient and your practice. It allows you to replace the cumbersome telephone reminder call with efficient text conversations.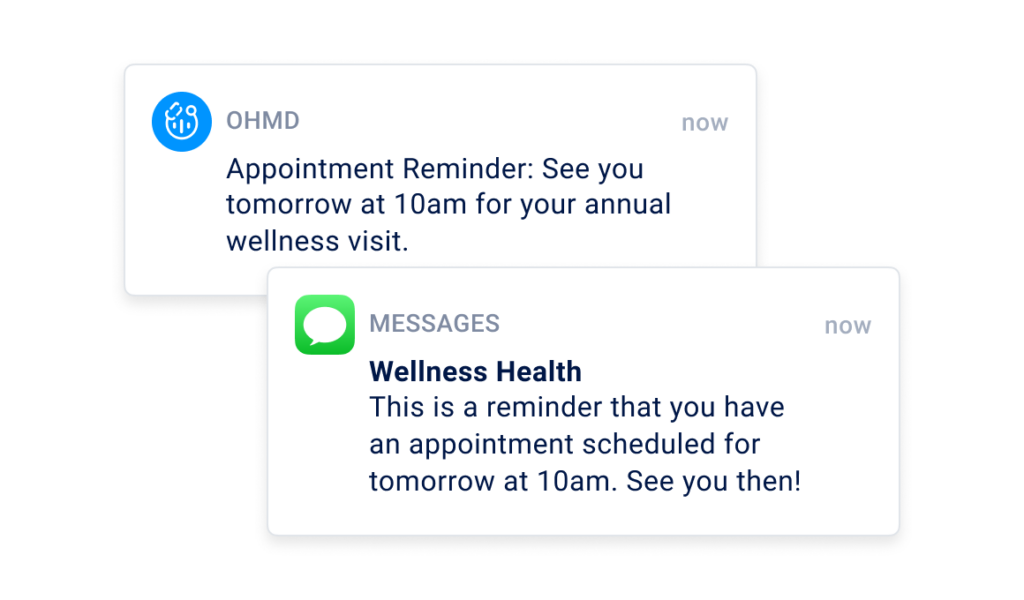 Not only is this what patients are looking for in a modern practice, but it's what your practice needs to be efficient and drive revenue that would otherwise be lost.
Personalized Text Reminders
Each appointment reminder text message from OhMD can be personalized with the perfect combination of practice and patient information. It's easy to send all your text appointment reminders with customized practice name, patient name, appointment date, and even a greeting from someone at the practice. The more personal and interactive the text, the more likely the patient is to pay attention, and engaged patients lead to higher quality care outcomes.
Streamlining patient engagement with OhMD SMS reminders
It all starts with a text message.

You send reminder texts, whether it be a one off text message reminder, or a broadcast, one-to-many, message.
Patient responses to your text appointment reminder flow back to OhMD for easy interaction. For your patients it's as simple as can be. No logging into a portal. No phone calling. No voicemail. No waiting on hold.
You, as the care provider, can reply to patients right in the platform and strengthen the patient experience through one-on-one conversations.
Just a few OhMD clients love about automated appointment reminders
Grow your practice and reduce missed appointments and cancellation rate with automated text message appointment reminders
Watch patient satisfaction soar for both new and existing patients
Broadcast upcoming appointment reminders to your patient, client, or customer
Send appointment scheduling, appointment confirmation, reschedule notifications, billing notifications and more
Eliminate the appointment reminder phone call completely, allowing staff to focus on delivering care
Supplement the email appointment reminder as text messages get read 90% of the time in the first three minutes
Segment your audience however you like regardless of appointment type
EHR integrated
We integrate with over 85 of the industry's leading electronic health record systems (EHRs) that push your patient list right into OhMD where you can send your SMS appointment reminders. At the end of your patient conversation push the entire chat back into your EHR in a click.