Federally Qualified Health Centers (FQHCs) face many obstacles when it comes to providing the best possible patient experience. By definition, an FQHC attends to populations that are generally underserved by other healthcare groups. This includes patients who are on both Medicare and Medicaid, as well as rural and migrant populations.
Since 2000, the number of individuals that qualify for care from an FQHC has tripled. In fact, in 2020, more than 29 million individuals received care at an FQHC. And as the need for FQHC care has increased, so have the challenges many community health centers face.
FQHC challenges
Federally Qualified Health Centers are serving more patients than ever before. With an increasing patient population comes the need for more staff. Healthcare, FQHCs in particular, are not immune to the struggle of recruiting qualified staff.
One in 11 Americans use an FQHC as their primary channel for medical care and are a critical cog in the U.S. healthcare system. This said, almost 70 percent of FQHCs have reported losing between 5-25 percent of their workforce since the beginning of 2022. The majority of those who left were nurses, many of whom reported they left due to burnout.
Patients still need to be taken care of, yet there are less care team members to help them.
The staffing challenges are real.
With staff retention rates dropping, many community health centers are seeking solutions which allow them to provide the same level of care even with reduced staff.
Combatting FQHC staffing issues with Patient Engagement Technology
With that information in mind, those involved in the healthcare industry are looking for ways to improve the experience of FQHC employees and retain staff.
A study published by BMC Health Services Research found that healthcare technology was able to vastly improve the quality of care that was able to be offered at FQHCs. The data showed that adoption of healthcare technology facilitated continuous care to the point where patients had improved outcomes, and eventually required less medical attention.
This is good news for FQHC patients, but fantastic news for FQHC employees. With patients needing less medical care, patient volume decreases. This reduces health center challenges by alleviating the burden on FQHC staff and improving the patient experience.
When asked what kind of healthcare technology would best suit their needs, many FQHC leaders said they look for a platform that allows them to offer both telehealth services and remote patient monitoring in one place. They also cited the need to increase office efficiency and patient engagement while decreasing the time staff spends on manual, administrative tasks.
FQHCs across the country are turning to technology to alleviate the stress that understaffing and patient overload has brought. If that technology is also able to improve patient care and outcomes, even better! HIPAA compliant patient and colleague communication software allows for just that.
OhMD tools like Forms, Autopilot, Broadcast, Patient Calling, Visual Voicemail, and Virtual Phone Assistant mitigate stress for an overwhelmed care team and help patients stay in touch with their provider. And when combined with the option to integrate OhMD with your Electronic Health Record (EHR) system, you eliminate the need to manually chart patient interactions that take place in OhMD.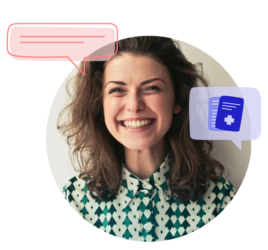 Improving patient communication is one text away
See why over 50,000 clinicians choose OhMD for patient texting