In recent years, patient personalization has emerged as one of the most important advances in the shift to a value-based care model. It's a process of taking into account all the unique aspects of a patient's medical history in order to make medical decisions in the best interests of that patient. This shift away from a one-size-fits-all approach to healthcare is changing the way we treat patients and is likely to play a decisive role in future medical advancements.
To understand how patient personalization works, its advantages and risks, along with how it can impact the overall patient experience, read on!
What is patient personalization?
Patient personalization focuses on the unique needs of each individual patient and allows clinicians to tailor treatments specifically for them. This approach has been shown to improve treatment outcomes for patients with complex conditions such as cancer. So, what's patient personalization? Simply put, it's the practice of treating each patient as an individual, taking into account their genetics and other health factors. This approach has been shown to improve health outcomes for patients with complex conditions such as cancer.
How does patient personalization work?
Patient personalization is a technique that uses data and algorithms to improve the care patients receive. It has been used in areas such as surgery, chemotherapy, and radiology. Using patient personalization, healthcare providers can apply a variety of decision-support tools to identify the patient's needs, preferences, and concerns. These tools are used to try to learn more about the patient and the patient's health so that they can be addressed in the most effective manner.

Armed with this patient data, the flow of communication with patients becomes less transactional, more consistent, and more trustworthy. Patient personalization is a method for improving the process of patient care by analyzing patient history, records, and behavior to anticipate future needs, and tailoring the patient's care to meet those needs.
The advantages
Patient personalization is changing healthcare for the better in many ways. It allows for customized treatments that are specifically tailored to each person's needs. This approach also contributes to decreased wait times and increased efficiency in the healthcare system. Patients are more satisfied with their care as a result, and it's a trend that is only going to continue as U.S. healthcare moves closer to a true value-based care system.
The goal of value-based care is to improve the quality and efficiency of healthcare, while reducing cost. A hallmark of value-based care is being proactive rather than reactive in addressing patient care. Personalized care plans, functional assessments to determine the best course of treatment for each individual patient, use of digital health records to track multiple medical conditions, and a system of clinical decision support are all efforts that have been used by organizations who are moving toward a value-based model. Leveraging data to aid in decision-making is a key aspect of value-based care as it allows the organization to better address patient needs and collaboratively move toward achieving health goals.
It is a cycle. With better data, care recommendations improve. Trust is built with patient participation in their own health journey with care recommendations tailored to them. The strong doctor/patient relationship leads to increased flow of information and a more holistic picture of the patient's health. When doctors have insight into their patients' health outside of the four walls of care, they can provide more individualized treatment, an improved experience, and better outcomes.

What does this provider/patient care partnership look like in practice? Here's an example from the primary care field:
A personalized care plan that is tailored for the patient is increasingly becoming a major focus for healthcare providers and payers as a cost reduction method. Treatment plans customized for the patient that don't rely on general guidelines cut down on unnecessary treatment, long hospital stays, and a variety of other negative impacts. These cost savings also have impact on the patient as they are better able to manage their healthcare costs. Increases to overall satisfaction can also have impact on reimbursement, so it is in the best interest of providers, payers, and patients alike to consider patient personalization.
The potential risks
While there are many potential benefits to patient personalization, there are also risks associated with it. The data has to be accessible and trustworthy for patient personalization at scale to be effective. Data cleanliness is one hurdle healthcare providers face related to the personalization of care. One of the most common risks is incorrect treatment recommendations. This could lead to patient injury or even death. The benefits of patient personalization need to be weighed against these risks before implementation. Additionally, patient personalization can lead to increased healthcare costs and lower quality of care. This leads many providers to only personalize care plans for those patients who truly require it.
There are ways, however, to address the scaling of patient personalization without increasing staffing or workload of your care team with the use of personalization solutions.
What solutions are available?
While there are various tools and platforms that healthcare organizations use to address patient personalization, there is no definitive list that clinicians reference as the absolute go to source. Sources of information on patient personalization tools include healthcare providers' websites, various associations across different specialties, patient advocacy groups, and consumer review websites like G2.
Places to research patient personalization solutions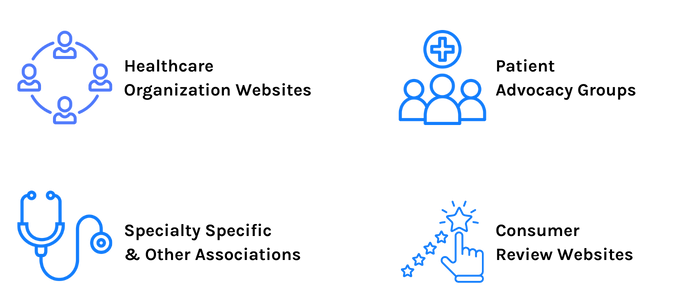 Some providers lean heavily on tools like patient surveys, patient diaries, as well as patient engagement solutions. Others rely on homegrown solutions extracting data from their EHR.
Determining the workflows you'd like to address and then choosing tools that are built for a healthcare audience is generally a best practice. As a large part of the personalization of care revolves around building strong relationships, customizing care plans and touch points, a strong patient communication solution is incredibly important. HIPAA compliance and time savings potential for your care team are both considerations one should make as you consider the right solution for you. You also want to think about finding a solution that can provide you a more holistic view of the patient's needs. Additionally there are costs associated with switching between various solutions for your team and your patients as data may not easily transfer from one to another. Finally, you want to ensure that your patients will actually engage with your solution so you want to provide them a communication tool little to no barrier to connect with you.
Tools that lead with two-way SMS text messaging, like OhMD are a perfect solution to personalize the care experience for your patients. OhMD allows providers to send patients personalized SMS text messages that contain information about their care, such as dietary recommendations or updates on lab results. In addition to providing valuable information directly to your patients, OhMD also creates a relationship between you and your patients. With OhMD, you can easily keep in touch with your patients without having to spend time talking on the phone. Providers love OhMD because the HIPAA compliant web-based platform allows them to text patients and have actual conversations with them all from their practice number. The entirety of the patient-provider communication is saved securely in the cloud and can be transferred to the patient's record in the EHR. Care team members can also automate common workflows like prescription refills and appointment scheduling outreach, connect over video, call patients, deliver electronic forms for completion and signature right on the patient's mobile device, and even drive patients to review their care experience on Google and other sites.
What's next for patient personalization?
Across the United States healthcare industry we are changing the way we treat patients. This is a great thing but it also can present challenges as we continue to improve. By catering to the individual needs of each patient, we can help them feel more comfortable and connected with their healthcare experience. While there are some advantages to patient personalization, it is important to be aware of the potential risks involved. Focus on what you can do well and the tools that will allow you to accelerate toward an improved experience.