Simple User Experience is Key
With COVID-19, Telehealth companies helped moved healthcare forward ten years in a matter of weeks, but each practice is different and must consider the tools they need for the future rather than just plugging in a video solution in the short term.
The importance of simplicity can't be understated. Too many clicks or an app to download and patients just won't use it.
OhMD has built the simplest telehealth experience in healthcare. If you'd like to see how it works or explore a free trial, schedule a demo.
When you combine two-way patient texting with video visits, your practice can provide virtual care while delivering an amazing patient experience.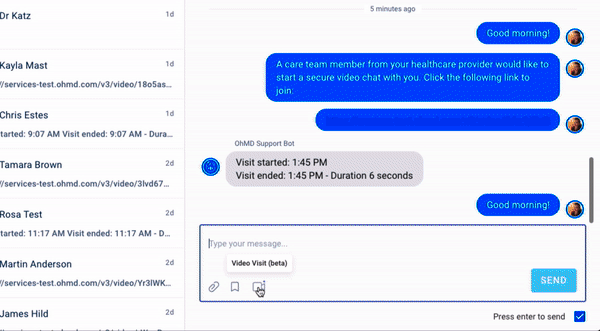 If you want more information on these features, you can learn more here.
With the latest drastic changes in the way healthcare needs to be delivered to patients in isolation due to COVID-19, we decided to put together a guide to telehealth, in addition to a shortlist of HIPAA compliant telehealth platforms, for people to look into.
What is Telehealth?
The United States Health Resources and Services Administration (HRSA) defines telehealth as the use of electronic information and telecommunication technologies to support and promote long-distance clinical health care, patient and professional health-related education, public health and health administration.
With the rapid spread of COVID-19, telehealth is now more important than ever before. Here is how you can take advantage of telemedicine to best protect your patients.
How can my practice best utilize telehealth during the COVID-19 pandemic?
In these unprecedented times, health care professionals must take advantage of telehealth; the use of telehealth limits exposure to risk for vulnerable populations and health care workers. Medical professionals can communicate with at-risk individuals without exposing them to emergency rooms, health clinic waiting areas, or other settings where the potential for contracting COVID-19 is high.
Below are three essential use cases for telehealth in your practice while we work to overcome this pandemic.
Monitoring symptoms
Treating populations who are particularly vulnerable to COVID-19 while minimizing the chance of exposure to COVID-19 can be very difficult to manage. Practices can utilize telehealth to observe and monitor mild symptoms without requiring a patient to travel to a clinic office. Medical professionals can remotely track symptoms and only ask to see the patient in person if circumstances require it.
Keeping healthy people out of the hospital
Keeping patients away from the locations with the highest likelihood of contracting COVID-19 is essential for reducing the spread of the virus. Health care professionals can use telemedicine to prevent self-quarantined patients from taking an unnecessary trip to the hospital. Not only does this prevent patients from visiting high-risk locations, but it also saves space in the hospital for patients who require in-person care.
Caring for patients
For patients who are admitted to a hospital, telehealth can be utilized by all members of a care team to check on and monitor the conditions of their patients. Live video, instant messaging, or any other form of remote patient monitoring can significantly reduce patient-to-patient contact and provider-to-patient contact. Minimizing in-person contact is the best way to reduce the rapid spread of COVID-19.
What is the cost of using telehealth services for a patient?
Out-of-pocket costs will vary depending on the type of patient insurance.
Medicare
To accommodate for COVID-19, the rural and site telehealth limitations will no longer apply in Medicare.
Medicare pays the same amount for telehealth services as it would if the service were delivered in person. For services that have different rates in the office versus the facility (the site of service payment differential), Medicare uses the facility payment rate when services are furnished via telehealth.
Medicaid
The treatment of telehealth for each Medicaid program varies state by state. Some states will allow for the extensive use of telemedicine to monitor and treat COVID-19, while others will not.
Look at the Center for Connected Health Policy's (CCHP) website to learn about current state laws and reimbursement policies in your state.
Private Payers
Telehealth coverage varies from payer-to-payer, depending on the plan.
Several health plans have announced that they will make telehealth more widely available or offer telehealth services for free for a certain period of time. Some of the announcements have come from Aetna, Cigna, and Blue Cross Blue Shield.
For example, Blue Cross Blue Shield is eliminating prior authorization for COVID-19 related services, covering full costs of diagnostic tests, increasing access to medication, and expanding access to telehealth and healthcare hotlines. Read more about BCBS here.
To learn more about the current telehealth policy coverage, look at CCHP's Telehealth Coverage Policies in the Time of COVID-19.
Two HIPAA Compliant Telehealth Platforms to know about
Every practice is different; different workflows, different patients, different software. Some electronic medical records (EMRs) have build-in telehealth platforms, and many don't.
Also, telehealth isn't a natural fit for many specialties. However, we believe that as healthcare changes in this country (and worldwide), patient care will shift quickly to use technology whenever possible.
So, here's our shortlist of HIPAA compliant telehealth platforms for you to look into:
OhMD
Cost: Free and Premium plans
OhMD takes a very different approach than most telehealth platforms. We've built our platform around two-way patient communication. We start by focusing on two-way SMS texting with patients to replace telephone calls with a more efficient process. So in the same place that you or your team is having a two-way text conversation with a patient, you can launch a video chat.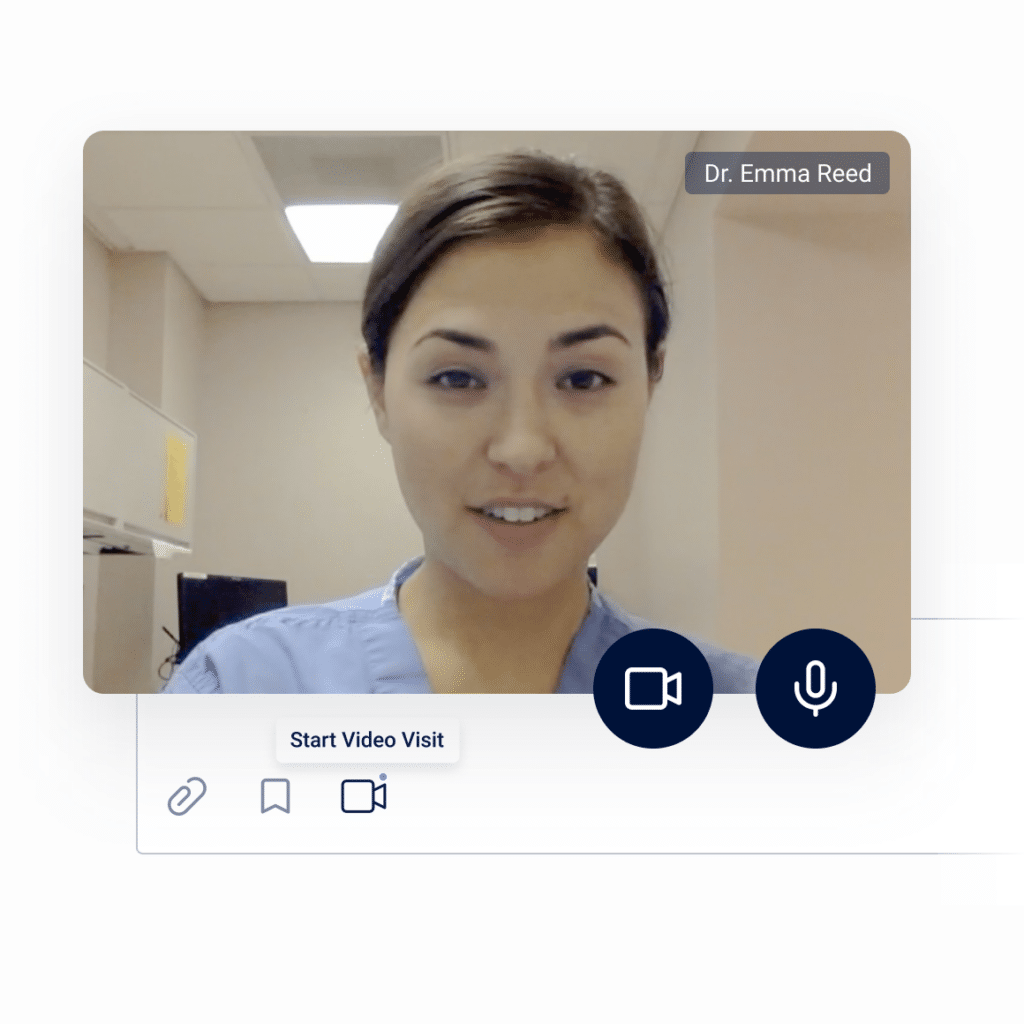 How it works
Since OhMD is being used for all patient communications, it's easy to go from having a two-way patient SMS conversation to launching a video chat. With one click, the patient receives an SMS text with a link. They tap on that link and launch a secure mobile web browser where the video chat begins. There's no app to download and it's really easy to use.
Doxy.me
Cost: Free and Premium plans
This platform is really nice for practices that need to get going with video visits quickly. Doxy.me has a free plan that excites practices because it is easy to start and it solves a really important problem. As far as HIPAA compliant telehealth platforms go, Doxy.me really is an incredible platform.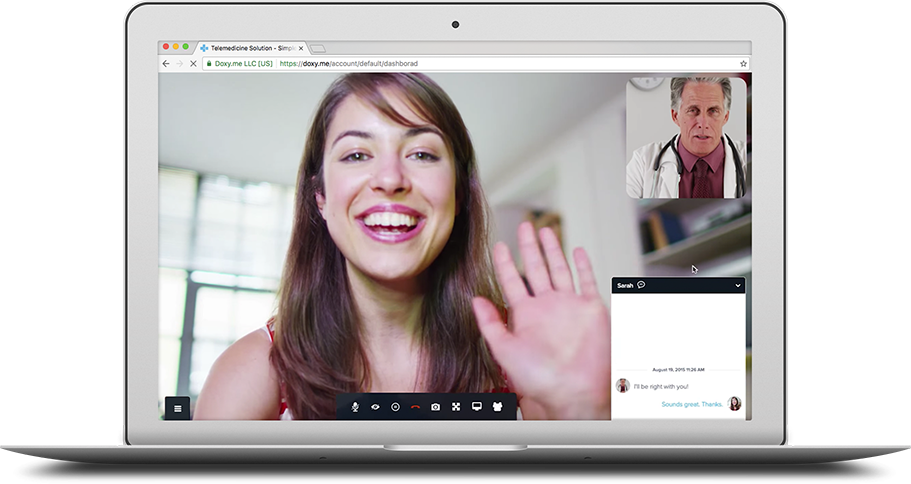 How it works
Similar to OhMD, Doxy allows a practice to send an invitation to a patient by text or email. The patient can open that link up on their mobile device or their computer, and with a click, they can join the video visit. Doxy doesn't require the patient to download any app or software.
To learn more about implementing OhMD as your telehealth service, schedule a demo with an expert today!