Patient no shows are extremely common in healthcare, with rates ranging from 10% to 30% in any given practice. The negative effects for your care team range from underutilizing medical equipment and staff to decreasing practice productivity. It also is expensive to lose appointments to no shows!
Many approaches have been suggested to try and combat patient no shows. Overbooking has been one solution, but you run into the problem of having appointments potentially overlapping, leaving you with frustrated patients. No show fees have also been implemented by some practices, but paying for services that were not rendered generally leaves patients feeling angry, alienated, and vastly reduces the chance they will return to your practice.

What we've found? Combating no shows doesn't require an elaborate scheduling system, overbooking, or no-show fees.

The number one thing you can do to combat patient no shows is simply improving patient communication.
Combat patient no shows with improved communication
Improving patient communication within your practice does not require complicated measures. One of the easiest ways to have a positive impact is to meet patients where they are and communicate with them how they prefer. OhMD has compiled 7 strategies on how to combat patient no shows easily and effectively.
1. Use personalized texting to improve patient communication
Two-way texting is the best way to communicate with your patients. Within seconds you can have a conversation without having to pick up the phone.
People have a lot going on at all times. Remaining in contact with your patients while making them feel seen, heard, and appreciated all play a major role in reducing no shows.

One simple thing you can do? Send patients personalized text messages about their upcoming appointments. Offer the option to reschedule or cancel, putting the power in the patient's hands to make changes easily. Show empathy and treat your patients with respect. Tell them you are looking forward to seeing them. Make it personal. Soon, patients will begin to trust that you are readily available if they have a problem or inquiry.

The problem is that, as patients, we are trained to believe that rescheduling or canceling an appointment is hard (because in many cases it is). The goal, of course, is to get more people to their appointments. If you are considering a secure texting platform like OhMD to make the job even easier, an added benefit is that you can simplify the rescheduling process.
2. Automate appointment reminders and rescheduling
One of the easiest and most effective ways to ensure that patients are showing up to their appointments is through automated appointment reminders. Sending automated appointment reminders via text will eliminate manually having to alert individual patients about upcoming appointments.
For example, with OhMD's Broadcast tool, you can send out automated appointment reminders to many patients at once with the click of a button. This automation has shown to cut no-shows by 13%. Ninety eight percent of people view the texts they receive within minutes, so sending appointment reminders over text is much more effective than a phone call that likely will go to voicemail (and may never get listened to). Patients can text back to either confirm, cancel, or change their appointment.
If someone needs to reschedule, kick off a keyword-triggered automated workflow with OhMD Autopilot to get them another appointment. For example, you text a patient an appointment reminder that includes a prompt to text back a keyword if they need to reschedule.
3. Offer patients choice when scheduling appointments
Prioritizing patients' choice when scheduling is proven to reduce patient no-shows significantly. Patient choice also has a great influence on the effectiveness of a practice as well. The simplest example of this is that with the OhMD platform, you can ask for the patients preferred appointment information. Patients respond with dates and times that work best for them. This simple, 30-second two-way text conversation can make all the difference in preventing no-shows as you can then take their preference and attempt to deliver on it while never having to jump on a phone call. Texting is much better for patients to communicate their needs and choices, and it's easier on you too.
4. Offer different communication methods
Texting gives patients the flexibility they need to have a positive effect on patient no shows, but what if they do prefer to call?
OhMD's Virtual Phone Assistant feature allows patients to call directly into the practice and either hang up and receive a text, stay on the line to speak to your team, or leave a voicemail that will be recorded and transcribed for you all in the patient conversation record in the platform alongside any texts you may have sent or received. Giving patients multiple options for communication will reduce no-shows and call volume at your practice.
5. Eliminate the virtual waiting room
The anticipatory anxiety before your doctor's appointment is only intensified by the dread of the waiting room. There is a lot of fear and anxiety before an appointment, and patient no-show rates mirror that. Even with virtual waiting rooms prior to telehealth appointments, patients eagerly await their provider and anxiety can grow. As patients wait longer, studies show they feel greater disrespect and no shows are more frequent.
Eliminating the virtual waiting room and opting for digital check-ins will put your patients at ease. Walk through the process with them through appointment reminders and reassuring texts along the way. When their appointment comes, patients will feel ready and less likely to no-show in the future. You can even deliver necessary intake forms via text prior to the visit.
6. Use empathy as much as possible
While patient no shows are frustrating for your practice, it's important to understand why patients are not showing up to their appointments in the first place. Put yourself in the patient's shoes and recognize how they are feeling. Anxiety and fear creep in when patients anticipate upcoming appointments. White Coat Syndrome is real for many Americans. Patients may also have logistical issues with transportation or have a work conflict that ties them up. Using empathy does wonders for effectively communicating with your patients and finding solutions.
Understanding the reasoning and replying with empathy will help with preventing patient no-shows. Send a reassuring pre-visit text to make sure your patient feels safe coming in. Offer up a digital visit instead of an in-person visit if there is a transportation or work issue. There are many, uncomplicated ways to help out your patients so they will show up for you.
7. Offer encouragement
While automated appointment reminders and communication tools are very beneficial to combat patient no shows, encouragement is extremely valuable as well. The value of words you offer to patients that help to build trust and affinity cannot be overstated. You can offer this with just a few compassionate and reassuring texts. Text them to ask if they need anything prior to their appointment, or send a text saying you are excited to see them at their appointment.
Prepare patients for the appointment by going over the expectations via text. Knowing what to expect during the appointment will set aside their anxiety of the unknown. If patients have any questions, they can text back any questions or concerns.
The real impact of patient no-shows
There are many reasons why patients do not show up to appointments, and there are real impacts on both health outcomes and your practice's bottom line. The reality is you, as a care team member, have very little control over when and if a no-show occurs.

The best thing you can do is have processes in place to help reduce no-shows and also have back up plans to fill the schedule if a patient cancels.
Building strong relationships can help you avoid the unfortunate situation of a patient canceling at the last minute or not showing up at all. Equipping your care team with the right communication and scheduling tools can make all the difference.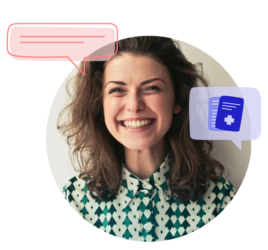 Improving patient communication is one text away
See why over 50,000 clinicians choose OhMD for patient texting