Happy patients mean a happy practice and ease of communication with a practice is a major reason why patients return visit after visit.
Patient texting is changing the way healthcare is delivered. With patient texting, providers can better serve the needs of their patients by providing information and engaging them in conversation…without the phone tag that both patients and care teams hate.
There's a significant amount of data to support that patient texting is not only a viable communication method, but is generally preferred by most patients. It's clear that texting is a fantastic (and easy) way to increase patient satisfaction. Even more, it allows staff to manage multiple patient conversations simultaneously. This means that patient text messages are often faster than phone calls.
Once patients know they have the option to contact you using HIPAA compliant texting, the value of a texting solution which opens up a new patient communication channel is undeniable.
What about the data?
When it comes to health care, patients often prefer texting over calling. Texting is quicker and easier than talking on the phone, and it can be more convenient for people who are busy or have other obligations. Plus, text messages don't need to be answered right away – they can wait until later when the patient has more time.
According to data from Becker's Hospital Review, over two-thirds of patients would prefer to schedule an appointment via text than over the phone or by email. That alone is a pretty convincing number. To add to that, research from the National Institutes of Health found that 98% of patients surveyed liked receiving text messages from their care team. Texting made them feel more connected to their care team, and allowed them to avoid calling the office.
On the whole, the findings suggested that the convenience of texting is unbeatable, and patients love it.
Patients also loved receiving various types of reminders, including appointment reminders, via SMS. This confirms the assumption that patients want to be able to engage and communicate with their providers. But they also want those interactions to happen in the same tool they use to communicate with family and friends.
This preference also goes for family members with loved ones receiving treatment. Managing a loved one's medical care is no easy task. But making communication easy can help with that lift. Which is probably why 91% of people managing the treatment of a family member would like to have the ability to communicate with their loved one's care team via text. In a clip from the Patient Conversation, Ed Marx noted that "communication is so key and again, it brings a sense of loyalty" such that "you'll never want to leave that or that physician because you're so bonded and connected".
Ed explains just how useful texting would have been in his own medical care. He suggests that it would have been especially appreciated by his wife, who was out of the loop while Ed was in a procedure and would have benefitted from more simple communication from his care team.
Numbers aside, texting is generally a breath of fresh air for patients. They can avoid being stuck on the phone, listening to Muzak on a loop, all the while getting more and more frustrated. With texting, they can be communicating with you while taking care of the business of the day.
There is no longer a need for a patient to drop everything in order to manage their healthcare needs.
Push for patient texting
We've established that two-way healthcare texting is king.
It is sure to improve patient experience, increase medication adherence, and encourage patients to be involved in their own healthcare journey. Above all else, make sure that patients know that texting your office is a great way to get in contact with their healthcare provider.
But how, exactly, do you let patients know that they can (and should be) texting you?
Put your textable number on your website
Make sure if patients are visiting your website, they know they can text you! Show off that number wherever feels appropriate. Maybe you choose to only put it on the "Contact Us" page of your site. Maybe you also put it on your homepage. Either way, make sure you're explicitly telling patients you'd love to see a text from them.
This way, visitors to your site can input your phone number directly into their device in order to easily communicate with you.
Here are some tips for putting your textable number on your website:
Use a clear font size and style that looks good across all devices.
Choose an easily accessible location where visitors can view your number without having to scroll down too much.
Make it clear that texting is the best way to get in touch with your office.
And on your social media pages
Don't forget that patients may come across your social media. They may even use social media to find your office number or read reviews from other patients. So be sure to advertise your textable number in a very central location. Whether that be a post, in your bio, or both, you can be sure that patients will see it, and likely take you up on the offer.
Adding your textable number to your practice's social media pages can also help patients find you more easily. By linking your textable phone number to your social media pages, patients will be able to quickly and easily connect with you after browsing your social media sites.
Don't forget the phone prompt!
Calling your office is likely a habit for many patients. To help them break that habit, you can remind them of their options when they call in. You can achieve that by sharing your textable number in your phone prompt.
If you want to go a step further, you can use OhMD's Virtual Phone Assistant (VPA) to funnel calls and mitigate call volume. When a patient calls in, VPA them the option to send a text, leave a voicemail, or speak to a live member of staff. Without any effort on your part, you're able to remind patients that they have the option to text you.
Start the conversation
Some patients may have your office line saved in their phone, and therefore don't frequent your website or social media pages. No problem! You can use a function like OhMD's Broadcast tool to send individual messages to patients' mobile devices en masse. Let them know they now have the option to text you instead of call. You'll probably start seeing messages from patients regarding their care needs almost immediately!
Ask patients to save your number
When you send out that initial message sharing your textable number, remind patients to save the number in their contacts list. They may lose track of that initial text, but if they've saved the number then they still can text you.
There are a few ways to request that patients save your textable number to their phone's contact list. Here are a couple tips for asking patients to save your number:
Explain that saving your number makes it easier for them to get in touch with you in the future.
Let them know all the reasons they may want to text you (we'll dive into this more next).
Tell patients why they may want to text you
Some patients may be unsure about what they should be texting you about. So tell them! You want them to text you about appointment scheduling? New patient intake? Medication refills? Health status changes? Then say so! Once they know that texting you is a one-stop-shop, they'll realize the value in texting (and so will you!).
See your practice succeed with HIPAA compliant text messaging
For the longest time, texting with providers wasn't an option. But now that it is, you have the opportunity to improve patient communication and, in turn, satisfaction. Satisfied patients are loyal, which means not only patient retention, but an opportunity for practice growth.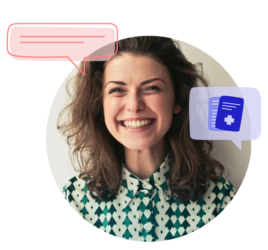 Improving patient communication is one text away
See why over 50,000 clinicians choose OhMD for patient texting